Product News: Electrical Equipment & Systems
N-Channel MOSFET (150 V) comes in 2 x 2 mm package.
Press Release Summary: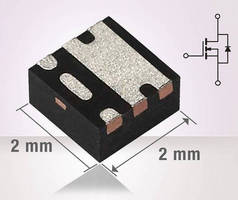 May 12, 2014 - Supplied in thermally enhanced PowerPAK® SC-70 package with 2 x 2 mm footprint, Vishay Siliconix SiA446DJ 150 V n-channel MOSFET increases efficiency in space-constrained applications by reducing conduction and switching losses. RoHS-compliant, halogen-free, and 100% RG- and UIS-tested product, built on ThunderFET® technology, offers low max on-resistance of 177 mΩ at 10 V, 185 mΩ at 7.5 V, and 250 mΩ at 6 V.

Original Press Release
Vishay Intertechnology Introduces First 150 V N-Channel MOSFET in Thermally Enhanced PowerPAK® SC-70 Package
Press release date: May 8, 2014
MOSFET Features 53 % Lower RDS(ON) Than Previous-Generation Device in TSOP-6 While Offering 55 % Smaller Footprint
MALVERN, Pa.– Vishay Intertechnology, Inc. (NYSE: VSH) today introduced the industry's first 150 V n-channel MOSFET in the compact, thermally enhanced PowerPAK® SC-70 package. Offering the industry's lowest on-resistance at 10 V in the 2 mm by 2 mm footprint area, the Vishay Siliconix SiA446DJ is designed to increase efficiency by reducing conduction and switching losses in a wide range of space-constrained applications.
The SiA446DJ is optimized for primary-side switching in isolated DC/DC converters, boost converters in LED backlighting, and synchronous rectification and load switching for power management applications in Power over Ethernet (PoE) PD switches, telecom DC/DC bricks, and portable electronic devices. For these applications, the PowerPAK SC-70 is 55 % smaller than the 3 mm by 2.8 mm TSOP-6 package while offering 40 % lower thermal resistance.
Built on ThunderFET® technology, the SiA446DJ offers low maximum on-resistance of 177 mΩ at 10 V, 185 mΩ at 7.5 V, and 250 mΩ at 6 V. At 10 V, the device's on-resistance is 53 % lower than the previous-generation device in the TSOP-6 package, while its typical on-resistance times gate charge figure of merit at 10 V is 54 % lower for improved efficiency. Furthermore, the SiA446DJ offers 26 % lower on-resistance than the latest competing device in the 3 mm by 2.7 mm SOT-23 package.
Extending Vishay's portfolio of medium-voltage MOSFETs in compact, thermally enhanced packages, the SiA446DJ joins the previously released 100 V SiA416DJ in the PowerPAK SC-70 and the 100 V SiB456DK in the PowerPAK SC-75. The device is RoHS-compliant, halogen-free, and 100 % RG- and UIS-tested.
Samples and production quantities of the SiA446DJ are available now, with lead times of 13 weeks for larger orders. Pricing for U.S. delivery only starts at $0.35 per piece in 10,000-piece quantities.
Resources:
Product datasheet on the Vishay website:
http://www.vishay.com/ppg?62925
Latest list of ThunderFET MOSFETs:
http://www.vishay.com/mosfets/medium-voltage/
Check distributor stock on the Vishay website:
http://www.vishay.com/search?query=sia446dj&searchChoice=part&type=inv
Vishay Intertechnology, Inc., a Fortune 1000 Company listed on the NYSE (VSH), is one of the world's largest manufacturers of discrete semiconductors (diodes, MOSFETs, and infrared optoelectronics) and passive electronic components (resistors, inductors, and capacitors). These components are used in virtually all types of electronic devices and equipment, in the industrial, computing, automotive, consumer, telecommunications, military, aerospace, power supplies, and medical markets. Vishay's product innovations, successful acquisition strategy, and "one-stop shop" service have made it a global industry leader. Vishay can be found on the Internet at
www.vishay.com
.
ThunderFET and PowerPAK are registered trademarks of Siliconix incorporated.
http://twitter.com/vishayindust
http://www.facebook.com/VishayIntertechnology