Product News: Optics & Photonics
Multispectral Optical Coatings offer dielectrical performance.
Press Release Summary: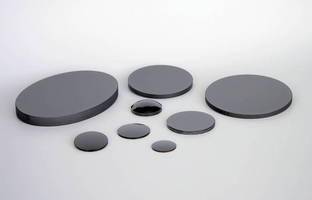 August 3, 2012 - Hybrid Diamond-Like-Carbon coatings resist conditions of harsh environments and feature transmittance of dielectrical coating. Using appropriate design and production process, internal coating tensions are minimized, and durability and adhesive power comply with testing standards such as TS 1888 (Windscreen-Wiper Test). Coatings can be manufactured on materials such as silicon or germanium. Their spectral properties can be achieved in 2 separate wavelength ranges, such as MWIR and LWIR.
Original Press Release
Hybrid-DLC Coatings
Press release date: August 1, 2012
High resistant multispectral optical coatings for Infrared applications The optics which is built into infrared systems of metrology, test and monitoring equipment is required to transmit high-quality images and signals with long-time stability. It must do so despite harsh environmental conditions and process-induced impacts on optical components and their coatings. DLC - also referred to as "hard carbon" IR coatings - represent the state-of-the-art in optical systems of thermo-sensor-based monitoring plants for industrial, civil and military applications. They can be manufactured on such materials as silicon or germanium. This can be achieved, in the simplest case, through adaptation of refractive indexes (single-layer coating). Jenoptik's newly developed Hybrid-DLC coating unites lasting resistance with the clearly improved transmittance of a dielectrical coating. This places Jenoptik among few companies worldwide which have the capability to selectively manufacture customized IR windows of highest durability and lowest residual spectral reflection. A sophisticated design and production process makes it possible to minimize internal coating tensions and, hence, warrant the durability and adhesive power in accordance with such established testing standards as TS 1888 (Windscreen-Wiper Test). This successful product line will be extended by hybrid filter coatings in the future. In addition, these spectral properties can be achieved in two separate wavelength ranges (e.g. MWIR and LWIR). Multispectral coatings of this type provide users of coatings with new solutions in design and application. A multispectral Hybrid-DLC coating can have a optimized transmittance (Avg > 80%) between 2.7 ìm and 11 ìm. JENOPTIK Optical Systems, Inc.
16490 Innovation Drive I Jupiter I FL 33478 I USA
Phone +1 561 881-7400 I Fax +1 561 881-1947
sales@jenoptik-inc.com I www.jenoptik-inc.com Optics Business Unit
JENOPTIK Optical Systems GmbH
Goeschwitzer Strasse 25 I 07745 Jena I Germany
Phone +49 3641 65-3304 I Fax -3677
optics.os@jenoptik.com I www.jenoptik.com/optics