Multi-Purpose Robots have 60,000 hour MTBF.
Press Release Summary: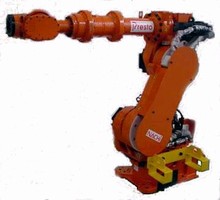 January 16, 2008 - With compact design, Presto Models ST70L and ST100 are suited for high-density/multi-layered robotic installations. Both can be used to mount lightweight spot welding guns, and, with significant allowable wrist torque, units can also support large material handling grippers. Optional integrated dress package is available.
Nachi Robotic Systems, Inc. - Novi, MI
Original Press Release
Nachi Robotic Systems Inc. Expands Its Presto ST Series Robot Lineup
Press release date: January 10, 2008
(January, 2008 - Novi, MI) - Nachi Robotic Systems Inc. has expanded its lineup of robots available in the Presto ST Series. The ST70L and ST100 are the newest models to join the existing ST166 and ST200 robots. The SC70L and ST100 are compact, multi-purpose robots with powerful load capacities that support the same wide range of applications as the existing ST models. Both of the new robots are perfect for mounting new lightweight spot welding guns, while their significant allowable wrist torque can support large material handling grippers The ST70L and ST100 were designed with an advanced space-saving concept, making them ideal for compact system solutions or high-density/multi-layered robotic installations. The robots are highly reliable with a 60,000 hour MTBF and have an optional integrated dress package. Nachi Fujikoshi's Robot Division was established in 1969 as a worldwide supplier of robots, becoming the #1 supplier of spot-welding robots in Japan (1997 & 1998). Their high-quality robots handle payloads from 4kg to 700kg are applied to spot and arc welding, material handling, machine load/unload, palletizing, sealing and many more repetitive tasks. Nachi Robotic Systems Inc. is the North American Robot Headquarters for sales, service, engineering and program management. Nachi Robotic Systems is a full-service supplier with five branch offices throughout North America. For more information contact Karen Lewis at Nachi Robotic Systems Inc., 22285 Roethel Drive, Novi, MI 48375. Phone: 248.305.6545 FAX: 248.305.6542 Or online, visit
www.nachirobotics.com