Product News: Explosives, Armaments & Weaponry
Modular Weapon System accurately identifies targets.
Press Release Summary: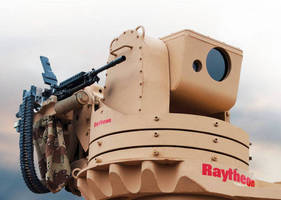 September 24, 2012 - As integrated Electro-Optical IR and visible sensor with weapon station, BattleGuard® provides trained operators of tracked and wheeled combat vehicles with 360° of under-armor unobstructed coverage. Plug-and-play solution also offers second or third generation FLIR (Forward Looking Infrared) threat detection system, which enables classification, recognition, and identification of stationary and moving targets beyond max effective ranges of threat weapons.
Original Press Release
Raytheon to Debut Target-seeking BattleGuard® at US Army 2012 Maneuver Conference
Press release date: September 17, 2012
Modular, cost-effective remote weapon station for combat vehicles

COLUMBUS, Ga. -- Raytheon Company (NYSE: RTN) will unveil its BattleGuard modular weapon system at the U.S. Army 2012 Maneuver Conference, which runs Sept. 18-19. BattleGuard is an integrated Electro-Optical Infrared and visible sensor with a weapon station that accurately identifies targets beyond the maximum effective range of weapons systems - more than twice that of competing technologies.

"BattleGuard is an affordable, low-risk solution for combat vehicles that enhances the commander's mission capability," said Glynn Raymer, vice president of Combat and Sensing Systems in Raytheon's Network Centric Systems business.

"The significance to the commander is the plug-and-play nature of the system. It is easy and fast to change configuration, to take off and put on another device, providing additional and immediate vehicle and squad protection," he added.

Designed for tracked and wheeled combat vehicles, BattleGuard provides trained operators with 360 degrees of "under armor" unobstructed coverage. It also offers a high performance 2nd or 3rd generation FLIR (Forward Looking Infrared) - a threat detection system that enables classification, recognition and identification of stationary and moving targets beyond the maximum effective ranges of threat weapons.

The system supports a number of machine and chain guns, including the M249, M240, M2, MK-19, MK-47, M134 and the M230LF. It also supports hard- or soft-launch missiles such as the Griffin, Javelin, Stinger and TOW, and non-lethal weapons.

About Raytheon
Raytheon Company, with 2011 sales of $25 billion and 71,000 employees worldwide, is a technology and innovation leader specializing in defense, homeland security and other government markets throughout the world. With a history of innovation spanning 90 years, Raytheon provides state-of-the-art electronics, mission systems integration and other capabilities in the areas of sensing; effects; and command, control, communications and intelligence systems, as well as a broad range of mission support services. Raytheon is headquartered in Waltham, Mass. For more about Raytheon, visit us at www.raytheon.com and follow us on Twitter @raytheon.

Since 1963, Raytheon has provided the U.S. Army and U.S. Marines with more than 30,000 high-performance infrared sensors.

Media Contact
Peter Ramjug
+1.978.886.7738
ncspr@raytheon.com