Product News: Chemicals & Chemical Processing
Modular Evaporator System targets oil sands market.
Press Release Summary: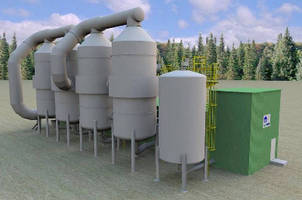 June 14, 2012 - Modular and redeployable, SMARTMOD(TM) utilizes vertical tube falling film evaporator design for treating difficult produced water sources. Multiple section design ensures ASME distillate quality, and on-line washing allows for continuous distillate production at greater than 70% of design capacity during washing. With minimized center of mass and evaporator weight, SMARTMOD module and vessels eliminate need for large evaporator building.
Aquatech International Corp. - Canonsburg, PA
Original Press Release
Aquatech Introduces SMARTMOD(TM) Modular Evaporator Technology for Oil Sands Market
Press release date: June 12, 2012
CALGARY, Alberta, -- Aquatech, a global leader in water purification technology for the industrial and infrastructure markets, will unveil its SMARTMOD(TM) modular evaporator technology for the Oil Sands market at the 2012 Global Petroleum Show, Booth # 7007, Halls D, E. Modular, flexible and redeployable, SMARTMOD is the lowest CAPEX and life cycle cost evaporator system available today. It utilizes vertical tube falling film evaporator design, a proven technology for treating difficult produced water sources. Benefits of SMARTMOD over conventional evaporator systems include 10% lower power consumption. Its multiple section design ensures ASME distillate quality, and on-line washing allows for continuous distillate production at >70% of design capacity during washing. SMARTMOD is also engineered to minimize field installation labor and costs. With its dramatically reduced center of mass and evaporator weight, the SMARTMOD module and vessels eliminate the need for building a large evaporator building or expensive foundation labor and materials. Its innovative design also reduces freight costs for transportation of the complete system to site. "Aquatech is pleased to introduce this new evaporator design, which adds to our industry-leading portfolio of solutions for oil & gas producers and provides our clients with a unique solution to treat and reuse their produced water. We see a bright future with SMARTMOD(TM) in the Oil Sands market and believe that this technology will further expand our already successful global footprint in produced water treatment," said Alan R. Daza, Vice President of Sales & Business Development for Aquatech. SAGD (Steam Assisted Gravity Drainage) is an enhanced oil recovery (EOR) technology for producing heavy crude oil and bitumen. It is an advanced form of steam stimulation where high pressure steam is injected into the formation, heating the bitumen in the formation, which lowers its viscosity and allows the mixture of bitumen and water from condensed steam to be pumped out. The liquid that is pumped to the surface is a mixture of oil and water. The mixture is separated to a predominantly oil and water fractions in the de-oiling process. The water fraction (or Produced Water) is sent to the Aquatech system for treatment and reuse in the facility. In addition to the evaporator technology, Aquatech has supplied conventional systems that include Walnut Shell Filters, Warm Lime Softening, Afterfilters and Ion Exchange softening. Once purified, the produced water is used as feed to the boiler for steam generation and injected into the formation, and the cycle continues. "Aquatech's evaporator systems like SMARTMOD are an excellent fit for the Oil Sands market. Whether it's for Produced Water or Boiler Blowdown treatment, the SMARTMOD provides high distillate purity, high continuous distillate production availability and significant reduction in field installation costs of approximately 75%," Daza noted. For more information about SMARTMOD and Aquatech's comprehensive solutions for oil & gas, please visit
www.aquatech.com
. About Aquatech
Aquatech (http://www.aquatech.com) is a global leader in water purification technology for industrial and infrastructure markets with a focus on desalination, water reuse, and zero liquid discharge. The company is headquartered in the United States, and has a significant presence worldwide through subsidiaries in India, Europe, the Middle East, and China. Aquatech strives to provide technology leadership and performance excellence to the global water industry, and aims to support its clients with cutting-edge sustainable solutions, minimizing their life cycle cost, as well as their carbon and water footprint. Contact:
Ann Seamonds
+1-978-887-9959; mobile +1-978-764-5528
seamonds@seamonds.com Web Site:
www.aquatech.com