Mobile Testing System ensures voice and data quality.
Press Release Summary: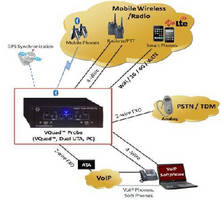 April 14, 2014 - Supporting up to 8 telephony devices simultaneously, VQuad™ is used for automated call control as well as to automatically send and record voice files from most any type of network, including wireless, VoIP, TDM, and analog. VQuad™, along with NetTest option, supports Data Testing from any PC or from any smart phone or tablet. Using optional WebViewer™ with node management capability, all events associated with VQuad™ tests are sent to Central Database for access and reporting.
GL Communications Inc. - Gaithersburg, MD
Original Press Release
GL Announces Enhanced Voice and Data Testing Solutions
Press release date: April 3, 2014
Gaithersburg, Maryland, USA - GL Communications Inc., announced today the release of its enhanced Voice and Data Testing Solutions: VQuad™, WebViewer™, and Mobile Device Controller.

Speaking to reporters, Mr. Robert Bichefsky, Senior Manager Product Development of the company said, "As advanced technologies such as LTE, Advanced LTE, WiMax, 3G, and Broadband are becoming common, basic voice/data quality will ultimately determine the fate of carriers and end equipment manufacturers. Simple and effective methods of testing voice and data are basic requirements - GL's mobile test solution provides this capability with the flexibility of connecting to and between any network, any service, and any interface."

He added, "The VQuad™ software is used for automated call control as well as to automatically send and record voice files from most any type of network (Wireless, VoIP, TDM, & Analog). VQuad™ supports up to 8 telephony devices simultaneously. A minimum of two telephony nodes are required for transferring files, either within same VQuad™ Node or between multiple geographically separated VQuad™ Nodes.

VQuad™, along with the NetTest option, supports Data Testing from any PC or from any smart phone or tablet (Apple, Android and Windows 8 supported). The Data Tests include TCP, UDP, HTTP, FTP, DNS, VoIP, SMS, and Email based tests run automatically or manually, whether in a voice call or not. So, we can test both voice and data simultaneously if the network permits.

GL's enhanced VQuad™ with VoIP option, along with VQT, provides the ability to perform manual or automated Voice Quality tests on the VoIP network supporting most any codec. Testing includes setting up a SIP User Agent, testing existing soft phones, and testing ATAs (connected to the network or isolated).

VQuad™ Auto Configuration feature provides a simplified way to build user-defined configurations in a few minutes. As part of the Auto Configuration, the user can configure call control and traffic parameters (Tx Rx Files / Digits/ Tones, VQT, POLQA analysis, Echo Measurement (EMU), Delay Measurements (RTD/OWD), SNR, C-Message, Path Confirmation) as well as NetTest Data Testing from PC or Mobile Device.

Using the optional WebViewerTM, all events associated with the VQuad™ tests are sent to the Central Database for access and reporting."

Mr. Bichefsky further added, "GL's WebViewer™ is a powerful web based tool used to query and filter all results/events/errors from any connected VQuadTM Probe. Current status of the entire network is displayed along with customized user statistics and results of the active tests.

The enhanced WebViewer™ provides node management capability displaying real-time status of each node within the network.  The WebViewer™ also supports remote access of any VQuad™ node within the network.

Google Maps has been added to the WebViewer™ for displaying results geographically using customized pins/thresholds. The Google Maps enhancement also displays, geographically, all VQuad™ Probes and all NetTest Mobile Devices within the Network."

He added, "GL's Mobile Device Controller (MDC) provides a liaison to all supported Apple/Android based mobile devices for conducting data NetTests. The Data Tests can be remotely configured within any VQuadTM node irrespective of the mobile device proximity to the VQuad™ node.

Specifically for smart phones, the VQuad™ can full automate the data tests to any GL NetTest equipped phone irrespective of whether the device is on a voice call. The testing is fully automated with results sent to the central database (WebViewer™).

Manual and automated testing is also supported directly from the GL NetTest equipped device. Configure automated testing from any mobile device without VQuad™ intervention with results automatically sent to the WebViewer™."

About GL Communications Inc.,
Founded in 1986, GL Communications Inc. is a leading supplier of test, monitoring, and analysis equipment for TDM, Wireless, IP and VoIP networks. Unlike conventional test equipment, GL's test platforms provide visualization, capture, storage, and convenient features like portability, remotability, and scripting

GL Communications has over the years worked with major telecom equipment vendors (EVs) and system integrators to meet the testing requirements arising at various stages of telecommunications product development life cycle.

With its proven expertise of over 25 years, GL has a comprehensive suite of telecom testing solutions to verify and ensure 'quality and reliability' of variety of telecom networks including Wireless, and high-speed fiber optic lines.

GL's test tools range from simple PC-based software test tool to all-encompassing hardware units with futuristic expansion capabilities.  GL's test solutions cover wide array of networks – 4G (LTE), 3G, IP, Ethernet, T1, T3, E1, E3, OC-3/STM-1, OC-12/STM-4, and traditional PSTN networks.

GL's tools are widely used by the telecommunication industry for conformance testing, automated stress/load testing, performance testing, remote accessibility, centralized web-based control and analysis, fault testing and analysis, and customized testing.

For more information about GL's complete line of products,

Contact:
Shelley Sharma
Phone: 301-670-4784
E-mail: info at gl.com