Product News: Test & Measuring Instruments
Mobile Test Device emulates Cat5 user equipment.
Press Release Summary: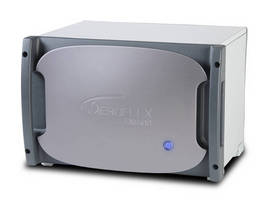 March 13, 2012 - TM500 LTE test mobile emulates LTE category 5 user equipment, allowing carriers to verify network operation and equipment vendors to test performance of their eNodeB (LTE base stations) at higher data rates that are enabled by Cat5 handsets and terminals. TM500 provides demodulation and decoding of downlink signals transmitted in 4x4 MIMO, and transmission of uplink signals modulated using 64 QAM, in support of these higher LTE data rates.
Original Press Release
Aeroflex TM500 LTE Test Mobile Adds Category 5 UE Emulation Capability
Press release date: February 27, 2012
Barcelona, Spain - Aeroflex Limited, a wholly owned subsidiary of Aeroflex Holding Corp. (NYSE:ARX), announced today that the TM500 LTE Test Mobile is the first test mobile to emulate LTE Category 5 (Cat5) user equipment (UE), allowing operators to verify the operation of their networks and equipment vendors to prove the performance of their eNodeB (LTE base stations) at the higher data rates that are enabled by Cat5 handsets and terminals. The TM500 Test Mobile platform is already being used by all the world's major infrastructure vendors and most femtocell vendors.

Cat5 is a classification for LTE UEs that provides enhanced data rates for both UL and DL. Using a 20 MHz bandwidth and FDD under good channel conditions, a data rate of 300 Mbps is available in the downlink, due to the addition of support for 4x4 MIMO. In the uplink the data rate is boosted to 75 Mbps by taking advantage of 64QAM modulation in addition to the earlier QPSK and 16QAM. Cat5 also introduces limited buffer rate matching in the DL, which confines the memory requirements allowing for cost effective handsets.

The TM500 Test Mobile now provides demodulation and decoding of downlink signals transmitted in 4x4 MIMO, and transmission of uplink signals modulated using 64QAM, in support of these higher LTE data rates.

"Yet again Aeroflex is providing the very latest test capability to allow testing of LTE networks and eNodeB ahead of the availability of real user equipment," said Nicola Logli, Product Manager at Aeroflex. "The addition of Cat5 support to the TM500 allows engineers to verify the signal processing function when testing systems at the higher data rates provided by LTE, and its Hybrid Automatic Repeat Request (HARQ) mode permits validation of the Cat5 feature prior to integration into the eNodeB."

The TM500's "per antenna" measurement capability allows the engineers to validate eNodeB RF functionality with direct cabling, while its "per RF path" measurements offer a powerful tool for use over the air during field trials, for studying the use cases that maximize the benefits of the four-transmitter (4 Tx) topology of 4x4 MIMO. A constellation plot is also available, which provides the engineer with a rapid scan of the signal quality.

The TM500 Test Mobile can also be used in stress test cases at an early stage in the development of Cat5, where one or two of the TM500 units are used in an attempt to utilize all the eNodeB resources while other handsets or UE also required to be served.

Price and availability For more information, contact your local Aeroflex sales office by visiting or calling Aeroflex Sales at (800) 835-2352 or info-test@aeroflex.com.

About Aeroflex LTE Expertise Aeroflex LTE leadership started with the delivery of test systems in 2007 and now continues with a complete range of end-to-end test systems that cover R&D, performance, service, and manufacturing test applications for LTE TDD and FDD network equipment and terminals.

The TM500 Test Mobile family is in use with almost every base station manufacturer across the world, and can be regarded as the de facto standard for eNodeB development and testing. EAST500 is the only network capacity test solution that incorporates the proven Aeroflex TM500 LTE air interface.

The Aeroflex 7100 LTE Digital Radio Test Set is a complete one-box test system providing all the tools required for the measurement and characterization of UE chip sets and mobile terminals to 3GPP LTE standards, including optional signal fading simulation.

The PXI 3000 Series, modular RF test system based on PXI technology is a proven solution to accelerate throughput in manufacturing and time to market in R&D while catering for current and future RF test needs. It is particularly suited to modern cellular and wireless data communications and critical testing in a high volume manufacturing environment.

Aeroflex has engineers working in centers around the world on its LTE and LTE-Advanced test systems, to support the current and next generation of networks and devices.

About Aeroflex Aeroflex Incorporated is a leading global provider of high performance microelectronic components and test and measurement equipment used by companies in the space, avionics, defense, commercial wireless communications, medical and other markets.

Glossary of Acronyms
LTE Long Term Evolution
UE User Equipment
UL Uplink
DL Downlink
FDD Frequency Division Duplexing
MIMO Multiple Input Multiple Output
64QAM 64 x Quadrature Amplitude Modulation

For more information, contact:
Debra Seifert
Debra Seifert Communications LLC
(503) 626-7539
debra@debraseifert.com

James E. De Broeck
Aeroflex Incorporated
(316) 522-4981
jim.debroeck@aeroflex.com