Product News: Controls & Controllers
Miniature USB Relay Controller has 16 independent channels.
Press Release Summary: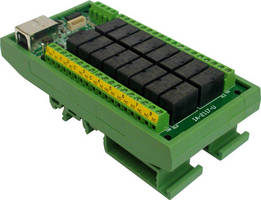 December 3, 2012 - Model IA-2117-U features 16 independently wired relays, 4 of which are SPDT (Form C) and 12 are SPST (Form A), and 3 digital inputs. Measuring 9 in.², and 10 in.² in DIN-rail mounting version, device is USB powered and controlled. In addition, it includes dual watchdog protection circuit to manage communication. Supporting all OSs, intelligent relay I/O controller also has open code sample programs, USB drivers, and set-up utilities.
Original Press Release
A New Tiny USB Relay Controller
Press release date: November 19, 2012
The IA-2117-U is a new Tiny 16-ch Relay Controller built to meet new project specific demands

Intelligent-Appliance is glad to announce a new tiny Relay Controller, the IA-2117-U. This new controller has 16 relays and 3 Digital Inputs on a footprint of around 9 square inch, 10 square inch in its DIN-Rail mounting version.

The IA-2117-U Relay Controller is USB Powered and Controlled. Its 16 relays are independently wired. 4 relays out of 16 are of SPDT (Form C) kind, while the rest of them are of SPST (Form A) kind. A bussed version, for simple wiring is also available, under IA-2116-U part number, sharing the same size.

This intelligent relay I/O controller also includes dual watchdog protection circuit to ensure the communication means are managed safely.

Open code sample programs, USB Drivers, set-up utilities, and detailed manual are provided free, attached to all Intelligent-Appliance products, to ensure accelerated user implementation. As virtual USB controlled device, product supports all operating systems.

For more information please go to our website www.intelligent-appliance.com or contact sales@ intelligent-appliance.com