Product News: Electrical Equipment & Systems
Miniature SMT Connectors deliver wire-to-board flexibility.
Press Release Summary: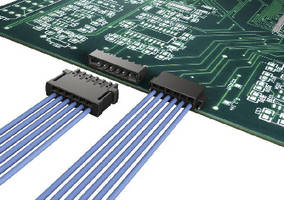 May 15, 2014 - Designed for pluggable single conductor wiring of I/O signals, har-flexicon® series offers 2 pitch categories. Traditional 3.5–5.08 mm sizes have standard contact spacing, screw or push-in (spring cage) wire termination, and SMC termination to board. For finer pitch, 1.27 mm size with IDC offers tool-free termination for single wires, while 2.54 mm size includes connector and terminal blocks with 2–12 contacts, push-in termination, and positive latching between male and female components.
Original Press Release
HARTING's New Har-flexicon Series Delivers New Wire-to-board Flexibility
Press release date: May 1, 2014
ELGIN, IL — HARTING has unveiled its new har-flexicon® series of discrete wire-to-board connectors and terminal blocks that deliver greater PCB performance and density with robust connectivity. These miniature components offer design and manufacturing flexibility, whatever the termination technology, that make possible a lower all-in cost of the PCB. These har-flexicon® SMT (Surface Mount Termination) components for pluggable single conductor wiring of I/O signals are available in two main pitch categories:
1) traditional 3.5 mm–5.08 mm sizes: These have standard contact spacing and screw or push-in (spring cage) wire termination and SMC (Surface Mount Compatible) termination to the board. The device side connectors can be directly wired to create a horizontal or vertical terminal block with high vibration and shock resistance. If high current is required, the 5.08 mm size is rated up to 17.5A for the terminal block and 15A for the two-piece connector;
2) 1.27 mm and 2.54 mm sizes: These fill the evolving niche for finer pitch. The 1.27 mm with IDC – a simple, fast, reliable tool-free termination for single wires – caters to the radical miniaturization of PCB termination. The 2.54 mm size includes a connector and terminal blocks with 2-12 contacts and push-in termination as well as a positive latching system between male and female components. Both 1.27 and 2.54 sizes are full SMT design and include a robust hold down to assure secure fixing to the board, a primary concern for the designer specifying SMT connectors.
The SMC (through hole) termination connectors come in a box with dry bag (MSL 2a) while the full SMT connectors are delivered in tape and reel packaging (MSL 1). For automated assembly, PCB makers can place and reflow har-flexicon® device side components along with all other board components – capacitors, resistors, integrated circuits, etc. – in a single SMT or SMD production run as opposed to separate steps using reflow and wave solder processes.
About HARTING
The HARTING Technology Group, privately owned and based in Germany, employs approximately 3,800 people globally across 40 subsidiaries and 27 branch offices. With production facilities in Europe, Asia and the United States, the HARTING portfolio of connectivity solutions focuses on multiple levels, from the machine to the device and into the communication infrastructure. The company's core business is intelligent and high-performance connection technology. HARTING USA was founded in 1986 and has been based in Elgin, IL since 1998. In 2005, manufacturing was added at Elgin, making it one of 11 HARTING production locations worldwide and one of only three producing custom high speed backplanes (HARTING Integrated Solutions). The same facility also supplies the market for cable and harness assemblies (HARTING Value Added Business).
Media Contact:
Christina Chatfield
Marketing Communications Manager
HARTING North America
1370 Bowes Road
Elgin, IL 60123
+1 (847) 717-9217
christina.chatfield@HARTING.com
www.harting-usa.com