Product News: Controls & Controllers
Mini Variable Speed Drive includes built-in HMI.
Press Release Summary: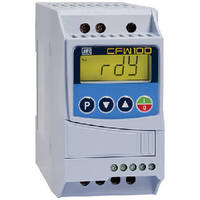 August 13, 2014 - Featuring power ranges of ¼, 1/3, ¾, and 1 hp at 230 Vac with single-phase in and 1.5 A, 2.6 A, and 4.2 A 3-phase output, Model CFW100 is designed to handle 150% overload for 60 sec at 50°C ambient. DIN rail mounted unit features built-in PLC, detachable fan, and plug-in modules for communication and I/O options. With built in keypad, unit monitors two different parameters simultaneously along with operation status, alarms, and faults. Drive can interface via USB, Bluetooth®, or IR wireless.
Original Press Release
WEG Electric Introduces the CFW100 Mini Drive
Press release date: August 11, 2014
Compact, Robust and Flexible!
Atlanta, GA – WEG Electric introduces its new CFW100 Mini Drive with advanced technology features in a small package. The CFW100 is a single-phase variable speed drive designed with OEM's and end users in mind. It is the smallest VFD with HMI on the market and is designed to handle 150% overload for 60 seconds at 50°C ambient temperature rating.
The WEG CFW100 Mini Drive has power ranges of 1/4HP, 1/3HP, 3/4HP and 1HP at 230 VAC with single-phase in and 1.5A, 2.6A and 4.2A three-phase output current. Its simplicity and flexibility are unsurpassed with design features such as built-in HMI, DIN rail mounting, detachable fan for easy maintenance and plug-in modules for communication and I/O options. All this in a size no larger than a typical panel contactor.
Programing is easy with the built in keypad that monitors two different parameters at the same time along with operation status, alarms and faults. A remote keypad CFW100-HMIR connected through a USB cable or remote serial connection for longer distances is also available. The CFW100 works with WEG's Superdrive G2 programing control software, available free from
www.weg.net
A full complement of plug-in communication and I/O modules are available to meet most machine designer's application requirements. A flash memory module is available to upload and transfer the drive parameters and PLC program to other CFW100 drives. Powered by internal batteries, the flash memory module has the capacity for over 5000 operations and can be used without applying power to the VFD. The module saves drive parameters and the PLC code directly from the Soft PLC feature. The CFW100 can interface using a USB connection, Bluetooth® or infrared wireless.
The built-in PLC enables the VFD to do much more than just turn a motor. Programing flexibility combined with network and I/O options make the CFW100 the most powerful drive of its size available. This built-in PLC often eliminates the need for an external PLC which reduces cost and optimizes space.
or a small compact package, the CFW100 is extremely robust allowing it to accept an overload of 150% for one minute, every 6 minutes in a 50°C ambient. This capability eliminates the need for the machine designer to oversize the VFD.
Along with all these features you also receive WEG quality advantages. Each CFW100 is tested under load at the factory, has protection against ground fault, short circuit and over temperature and all are manufactured with conformal coated circuit boards classified as 3C2 per IEC specification 60721-3-3.
For more information on the new CFW100 Mini Drive or its 3 year optimal warranty go to
www.weg.net
or contact your local distributor.
About WEG Electric Corp.
Founded in 1961, WEG has grown into a global solutions provider of electric-electronic technologies and equipment. WEG is the largest industrial electric motor manufacturer in the Americas and one of the largest manufacturers of electric motors in the world having five main lines: motors, power transmission and distribution, automation and coatings. With over 21 thousand employees it is committed to growth and continued research and development on a global scale.
WEG Electric Corp. Contact:
Gerardo Elias
Marketing Manager, North & Central America
678-249-2022
www.weg.net