Product News: Computer Hardware & Peripherals
Military-Grade VPX SBC supports Intel® Core(TM) i7 processors.
Press Release Summary: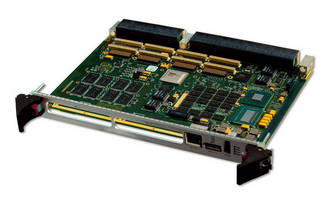 November 12, 2012 - Suited for military applications, XCalibur4440 conduction- or air-cooled 6U VPX SBC features up to 16 GB DDR3-1600 ECC SDRAM in 2 channels. OpenVPX-compliant system also has 32 MB of boot flash and up to 256 GB of user flash. Dual PMC/XMC interfaces, two 10/100/1000BASE-T Ethernet and two 10/100/1000BASE-BX Ethernet ports, and HDMI/DVI-D video port are included. Compatible with 2nd and 3rd generation Intel Core i7 processors, unit is also equipped with 4 USB 2.0 and SATA 3.0 Gbps ports.
Extreme Engineering Solutions (X-ES) - Middleton, WI
Original Press Release
X-ES Adds 6U VPX Module to Its Line of Intel® Core(TM) i7 Processor-Based Products
Press release date: October 25, 2012
Middleton, WI – Extreme Engineering Solutions (X-ES) introduces the XCalibur4440, a conduction- or air-cooled 6U VPX Single Board Computer (SBC) supporting 2nd and 3rd generation Intel® Core™i7 processors. With a dual- or quad-core processor, 16 GB of memory, and dual PMC/XMC sites, the XCalibur4440 is an ideal platform for the most demanding military applications.

The XCalibur4440 features include:
• Intel Core i7-2655LE, -2610UE, -3555LE, -3517UE, and -3612QE processors
• Conduction- or air-cooled 6U VPX form factor, OpenVPX compliant
• Up to 16 GB of DDR3-1600 ECC SDRAM in two channels
• 32 MB of boot flash and up to 256 GB of user flash
• Dual PMC/XMC interfaces with rear I/O and front panel I/O support
• Two 10/100/1000BASE-T Ethernet and two 10/100/1000BASE-BX Ethernet ports
• One HDMI/DVI-D video port
• Four USB 2.0 ports
• Four SATA 3.0 Gb/s ports
• Front panel I/O – DisplayPort video, 10/100/1000BASE-T Ethernet, and USB 2.0 ports
• Linux, Wind River VxWorks, and Green Hills INTEGRITY BSPs, as well as Microsoft Windows Drivers. Other RTOS solutions may be available.

In addition to 6U VPX, X-ES is supporting 3rd generation Intel® Core™ i7 processors across our five other industry-standard form factors: COM Express, 3U VPX, 3U CompactPCI, 6U CompactPCI, and 6U VME.  The XPedite7470 3U VPX SBC, the XPedite7431 3U CompactPCI SBC, the XCalibur4401 6U CompactPCI SBC, the XPedite7450 COM Express module, and the XCalibur4440 6U VPX SBC are currently available. Please contact X-ES Sales for more information.

About X-ES — Extreme Engineering Solutions, Inc. (X-ES), a 100% U.S.A.-based company, designs and builds single board computers, I/O boards, power supplies, backplanes, chassis, and system-level solutions for embedded computing customers. X-ES offers cutting-edge performance and flexibility in design, plus an unparalleled level of customer support and service. For further information on X-ES products or services, please visit our website: www.xes-inc.com or call (608) 833-1155.

Data Sheet: www.xes-inc.com/assets/products/files/XCalibur4440-DS.pdf

All trademarks are property of their respective owners.

Dave Barker
Marketing Director
(281) 644-0248
dbarker@xes-inc.com