Product News: Welding Equipment & Supplies
MIG-Stick-TIG Welder delivers 5-300 A output.
Press Release Summary: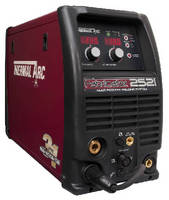 January 18, 2012 - Featuring portable design, Fabricator® 252i 3-in-1 System combines 3 welding processes, enabling user to choose best process for application. Unit offers MIG inductance control, MIG spot and stitch welding control, stick hot start to prevent electrode from sticking, and stick arc force control to adjust arc characteristics for all electrodes. Using 208-230 V primary power, Fabricator® 252i is suitable for use on steel, stainless, aluminum, and other alloys.
Original Press Release
Thermal Arc's Fabricator 252i "3-in-1" MIG-Stick-TIG Welder Offers Best Performance, Value of any 250-Amp Welder
Press release date: January 9, 2012
o Fabricator® 252i inverter offers unsurpassed process flexibility for broad range of applications on steel, stainless and aluminum and other alloys
o Unit weighs 66 lbs. for portability, runs smoothly off generator power
o 5- to 300-amp output range for thin to ½" thick steel
o Operator-friendly features improve welding performance
o Priced about the same as competitive MIG-only units; MSRP of $2,509
ST. LOUIS, -Thermal Arc®, a Thermadyne® brand leader in arc welding technology, has launched the Fabricator® 252i "3-in-1" MIG-Stick-TIG welding system. Weighing 66 lbs. and with an output range of 5- to 300-amps (250 amps at 40% duty cycle), the Fabricator 252i is the second in a new category of welding products: multi-process, fully integrated, portable welders. With an MSRP of $2,509 for the base package, the Fabricator 252i provides three welding processes for the price of competitive MIG-only units.
Unlike other welders, the Fabricator 252i enables users to choose the best process for the application at hand. For example, its MIG and gas-shielded flux cored outputs provide maximum productivity in the shop. The Stick and self-shielded flux cored processes work better in windy and outdoor conditions, as well as on rusty or dirty metal, while the DC TIG process enables users to weld stainless, copper, nickel, bronze or brass alloys or on applications requiring precise control over heat input and weld bead placement.
Thermal Arc designed the Fabricator 252i for light industrial fabrication, mechanical contractors, farm/ranch, motorsports, maintenance/repair, light construction and continuing technical educational and training facilities.
The Fabricator 252i incorporates advanced inverter technology to optimize arc performance for all three welding processes and provide such features such as:
o MIG inductance control to improve arc stability and reduce spatter.
o MIG spot and stitch welding control (techniques commonly used on sheet metal where users set On/Off and dwell time).
o Stick Hot Start to prevent the electrode from sticking.
o Stick Arc Force Control to adjust arc characteristics for all electrodes (including E7018 for structural steel and E6010 for pipe welding).
oLIFT TIG for arc starts without high frequency.
Digital meters, a comprehensive set-up chart and quick-change (no tools) polarity connections make the unit extremely user friendly. Other performance enhancing features include a 10-pin receptacle for MIG welding aluminum with a spool gun, burn back control, run-in speed control and wire sharp to improve MIG arc starts, downslope control to reduce crater cracking when TIG welding, adjustable pre- and post-flow and 4T trigger hold control to reduce hand fatigue on long TIG or MIG welds.
"The 3-in-1 design approach delivers superior features and value for our customers," says David Wilton, Vice President, Welding Products. "Exceptional arc performance across all three welding processes coupled with lightweight portability means customers no longer need to purchase two or three welders to achieve multi-process capabilities."
Welding Outputs
Using 208- to 230V primary power, the Fabricator 252i provides the following outputs:
o MIG/Flux Cored: 5 to 300 amps/14 to 30 volts (250A/26.5V @ 40% duty cycle). It can run solid wires from .023- to .045" diameter, flux cored wires from .030- to .045" and aluminum wires from .030- to 3/64". The unit accepts 4-, 8- and 12"-diameter wire spools.
o Stick (DC only): Up to 300 amps (230A/29.2V @ 40% duty cycle), suitable for running Stick electrodes up to 1/4" diameter.
o TIG (DC only): 5 to 300 amps (250A/20V @ 40% duty cycle), suitable for running all common diameter tungsten electrodes.
By far the best value of any product in the market in this category today, the Fabricator® 252i is essentially a free Stick/TIG welder for the price of a MIG unit. Thermal Arc tests the output of its units at 104o F, so users can be assured of getting full output even in hot conditions. With an IP23S NEMA rating, the unit is suitable for outdoor use.
The Fabricator 252i features power factor correction (PFC), which lowers the unit's primary current draw and enables it to provide full output on a 50-amp circuit. The Fabricator 252i tolerates voltage fluctuations from 187 to 276 VAC, which makes it especially suited for running off any generator (including PTO-driven units) that supplies at least 8.2 kVA (6.6 kW) of power.
The unit comes with a TWECO Spray Master 250-amp MIG gun, TWECO WeldSkill 200 amp Stick electrode holder and Victor EDGE regulator. Popular accessories include a TIG torch and remote foot control, a hand pendant for remote Stick/TIG amperage control, a TWECO 200-amp spool gun for aluminum, single- and dual-cylinder carts for shop mobility and a roll-cage for skidding or carrying in portable applications.
For more information on the Fabricator 3-in-1 Series and other Thermal Arc welders and accessories, visit
www.thermalarc.com
or contact your regional Thermadyne sales representative.
Thermal Arc®, a leader in arc welding technology, provides a complete line of superior quality power supplies and accessories. Their extensive array of welding power source products include MIG (GMAW), Stick (SMAW), TIG (GTAW), multi-process, wire feeders and plasma welding systems.
Thermadyne Holdings Corporation is headquartered in St. Louis, Mo. Thermadyne is a leading global manufacturer and marketer of metal cutting and welding products and accessories under a variety of premium brand names including Victor®, Tweco®, Arcair®, Thermal Dynamics®, Thermal Arc®, Stoody®, TurboTorch®, Firepower® and CIGWELD®. For more information about Thermadyne, its products and services, visit the company's website at
www.thermadyne.com
.