Product News: Electronic Components & Devices
Microphone Preamplifier withstands temperatures up to 257°F.
Press Release Summary: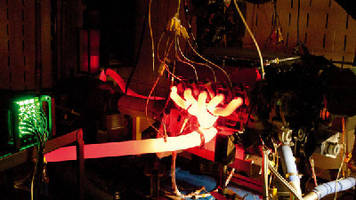 February 1, 2013 - With Model 1706, engineers can make acoustical measurements nearer to sound or noise source of hot devices, such as gas turbines and automotive engines and exhaust systems. Preamplifier can be used with Smart Transducer interface, which is in accordance with IEEE 1451.4 standard. In addition, Model 1706 can be used in combination with free-field or diffuse-field ½ in. microphone, where data of preamplifier/microphone combination are stored in transducer electronic data sheet.
Original Press Release
Amp It up with Brüel & Kjær
Press release date: January 1, 2013
DENMARK, -- Brüel & Kjær has launched the world's first preamplifier and preamplifier/microphone combinations to withstand temperatures up to 125 degrees (257F).

The high-temperature 1706 Microphone Preamplifier enable engineers to make acoustical measurements, nearer to the sound or noise source of hot devices, such as engines and gas turbines.

By getting closer to the source, it's much simpler for the engineer to identify and deal with any potential issues, making it ideal for testing applications including gas turbine auxiliary equipment, environmental stress screening, automotive engine and exhaust systems.

1706 can also be used with a Smart Transducer interface, which is in accordance with the IEEE 1451.4 standard. The ability to store and recall Transducer Electronic Data Sheet (TEDS) data dramatically reduces test setup time, which helps reduce cost in most measurement situations.

The new High Temperature Preamplifier 1706 is also available to use in combination with a Free-field or a Diffuse-field ½" Microphone, where the data of the combination of the preamplifier and the microphone are stored in TEDS.

Detailed individual calibration information and compensation for accessories - such as wind screens - are supplied on a CD with the microphone and preamplifiers, which allows very accurate measurements.

The Microphone and Preamplifier combinations available are a ½" Free-field Microphone 4189-H-041, with 6 Hz to 20 kHz, prepolarized and includes the 1706 with TEDS.
More information

There is also a 4942-H-042 ½" Diffuse-field Microphone, with 6.3 Hz to 16 kHz, prepolarized and include the 1706 with TEDS.

About Brüel & Kjær
Brüel & Kjær is a world-leading manufacturer and supplier of sound and vibration measurement systems. Brüel & Kjær helps its customers measure and manage the quality of sound and vibration in their products and in the environment. Focus areas are aerospace, space, defence, automotive, ground transportation, airport environment, urban environment, telecom, and audio.

Brüel & Kjær has an unparalleled portfolio of sound and vibration equipment, and is a renowned deliverer of innovative instrumentation, including sound level meters, microphones, accelerometers, conditioning amplifiers, calibrators, noise and vibration analysers and software. To see the full range of products and systems, please visit www.bksv.com

Brüel & Kjær also runs a variety of training courses, from basic introductions to noise and its effects to more specialised classes teaching customers how to get the most out of their equipment. Free, online training courses - conducted by our expert engineers - run throughout the year too. For all course registration details visit http://www.bksv.com/courses

Brüel & Kjær is a subsidiary of UK-based Spectris plc (www.spectris.com) which has annual sales of £1.1bn and employs around 7,500 people worldwide across its four business segments.

For additional information please contact:
Heather Wilkins
Marketing Coordinator
Bruel & Kjaer
Telephone: 01223 389 800
Web: www.bksv.com
Email: heather.wilkins@bksv.com