Product News: Laboratory and Research Supplies and Equipment
Micro-Volume Probes allow analysis of samples down to 150 µl.
Press Release Summary: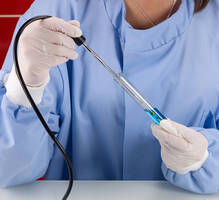 June 12, 2014 - Respectively, 4 and 6 mm micro-volume probes offer reaches of 120 and 180 mm and feature shaft diameters that promote reading accuracy in sample volumes as small as 150 and 200 µl. Designs ensure suitability for use in test tubes and small vessels, construction is of glass, and products can be used with any Jenway bench conductivity meter.
Original Press Release
New Micro-Volume Probes from Jenway Allow Analysis of Samples as Small as 150 µl
Press release date: June 4, 2014
Staffordshire, UK:  New micro-volume probes from Jenway are designed for the accurate and reliable measurement of solutions in volumes as low as 150µl.
The micro-volume probes are available in two variants - the 4mm probe with a 120mm reach and the 6mm probe has a 180mm reach. The specific designs of each of the probes ensure their suitability for use in test tubes and small vessels, while the small shaft diameters allow for accurate readings in sample volumes as small as 150µl and 200µl respectively. Both probes are made from glass and can be used with any of the bench conductivity meters supplied by Jenway.
The new probes are the latest addition to Jenway's extensive selection of conductivity equipment, designed to suit all kinds of laboratories and applications. For more information on this latest product, or to view the rest of the range, please visit
www.jenway.com
About Bibby Scientific
One of four new companies established by Nova Capital from the former Barloworld Scientific business, acquired in November 2007, Bibby Scientific Limited focuses on the design, manufacture and distribution of four world-leading benchtop laboratory equipment brands: Jenway®, Stuart®, Techne® and Electrothermal®.
The 2011 acquisition of Electrothermal®, market leaders in heating mantle design and manufacture, adds an extensive range of outstanding products which complement Bibby Scientific's broad-based portfolio.
All four brands are available through good laboratory distributors worldwide. Bibby Scientific Ltd has subsidiaries in the USA, France and Singapore, as well as an associated company in the Middle East.
For press information, please contact:
Phoenix MarCom Ltd.
Tel: +44 (0)1480 471045;
Fax: +44 (0)1480 471056;
claire.england@phoenixmarcom.co.uk
Please send sales enquiries to:
Bibby Scientific Ltd
Beacon Road, Stone, Staffordshire, ST15 0SA, UK
Tel: +44 (0)1785 812121;
Fax: +44 (0)1785 810405;
info@bibby-scientific.com
www.jenway.com