Product News: Health, Medical, & Dental Supplies and Equipment
Micro-Abrasive Lathe uses interchangeable nozzle arrays.
Press Release Summary: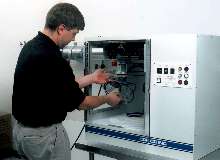 November 20, 2002 - Automated SP1200 Micro-Abrading Lathe incorporates DirectFlo micro-abrasive blaster and self-contained WorkStation. System delivers stream of abrasive in programmable pattern for repeatability and control. Capable of utilizing intelligent tooling, lathe spindle can be programmed to operate in step or indexed motions as well as in continuous rotation. X Theta controlled nozzle blast position is programmable for point blasting, regional texturing, or blasting in helical path.
Original Press Release
Comco Puts a New Spin on Micro-Abrasive Blasting for Medical Device Manufacturing
Press release date: November 13, 2002
Comco Inc. has introduced the SP1200 Micro-Abrading Lathe, which combines the rotation characteristics of a traditional lathe with the latest advances in micro-abrasive blasting technology. The SP1200 is ideally suited for abrading a variety of medical parts that require precision material removal, cleaning, or texturing. Applications include precision finishing and deburring on the ends of intravenous components; texturing, cleaning, and material removal on stents and implantable devices; and surface preparation of miniature polyurethane tubes prior to bonding. The SFP1200 features a DirectFlo micro-abrasive blaster and a self-contained WorkStation. The innovative system delivers a powerful stream of abrasive in a fully programmable pattern to ensure the high degree of repeatability and control that is essential in semi-automated production environments. Capable of utilizing 'intelligent' tooling; to fit custom applications, the lathe spindle can be programmed to operate in step or indexed motions as well as in continuous rotation. The X Theta controlled nozzle blast position is fully programmable for point blasting, regional texturing, or blasting in a helical path. Comco's Micro-Abrading Lathe is the first automated micro-abrasive blasting machine to use quick-connect interchangeable nozzle arrays, eliminating the need to have separate machines for different applications. For additional information on the benefits of micro-abrasive blasting, visit
www.COMCOinc.com
or call Comco at 800-796-6626 and request the technical specifications sheet on the SP1200 Micro-Abrading Lathe. Comco Inc. 2151 North Lincoln Street / Burbank, California 91504-3344, USA / 818-841-5500
E-mail: sales@COMCOinc.com / 800-796-6626 / Fax: 818-955-8365
www.COMCOinc.com