Product News: Fluid & Gas Flow Equipment
Metering Valve includes stops and locking mechanism.
Press Release Summary: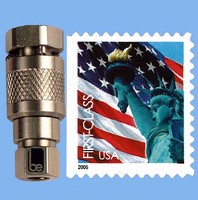 September 25, 2006 - Rated to 200 psig max inlet pressure, Miniature Metering Valve features 10-32 internal threads on both inlet and outlet connections. Mechanical stops allows user to positively position sleeve in either FULL ON or FULL OFF position, while set screw locking mechanism locks sleeve in position once desired flow rate has been achieved. Sleeve and seals are designed to be insensitive to vibration, preventing inadvertent changes to flow setting.
Beswick Engineering Co., Inc. - Greenland, NH
Original Press Release
Miniature Metering Valve with Stops and Locking Mechanism
Press release date: September 6, 2006
Beswick Engineering designs and manufactures high-performance miniature fluid power devices. Beswick introduces a new miniature metering valve with stops and locking mechanism. This new metering valve is based upon Beswick's innovative (formerly patented) "MIL-MV-XX" metering valves. The addition of mechanical stops allows users to positively position the sleeve in either the FULL ON or FULL OFF position. Users can also reliably position the flow at any point between the two stops by using the engraved scale. A set screw locking mechanism allows the user to lock the sleeve in position once the desired flow rate has been achieved. The installation length of this product is approximately 1.1 inches. Inlet and outlet connections are both 10-32 internal threads. The size of the radial inlet orifice can be selected to be compatible with the approximate maximum flow required in the application. Rotation of the sleeve allows for adjustment between positive shut-off and maximum flow. The valve sleeve and seals are designed to be insensitive to vibration. This prevents inadvertent changes to the flow setting. The metering valve is rated to 200 psig maximum inlet pressure. Applications include: fuel cell industry, medical and dental equipment, instruments, laboratory equipment, semiconductor manufacturing equipment, aerospace equipment, packaging machinery, industrial robots and many more. Beswick products include: fittings, valves, quick disconnects, pressure regulators/gauges, cylinders, filters, orifices, shock absorbers, pressure electric switches, tubing, etc. Beswick speaks your language and can custom design products to meet your specific requirements. For more information, please contact: Mike Donati Beswick Engineering Co., Inc. 284 Ocean Road, Greenland, NH 03840-2442 USA Phone: +1 603.433.1188 Fax: +1 603.433.3313 E-mail: mdonati@beswick.com Website:
www.beswick.com