Product News: Welding Equipment & Supplies
Metal-Cored Wire suits semiautomatic and robotic applications.
Press Release Summary: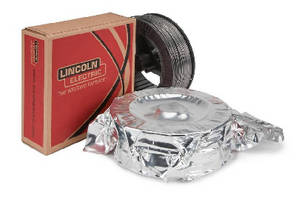 January 21, 2013 - Available in .045, .052, and 1/16 in. diameters, Metalshield® MC®-80Ni1 produces H4 diffusible hydrogen weld deposits in structural and heavy fabrication applications that require tensile strength of 550 MPa. Silicon island management minimizes slag and eases slag removal, while deoxidizing agents minimize weld clean up. In addition to low spatter and optimal arc stability, low-alloy wire features low temperature impact properties with Charpy V-Notch test results exceeding 35 ft-lbf at -60°F.
The Lincoln Electric Company - Cleveland, OH
Original Press Release
Lincoln Electric Adds Metalshield® MC®-80Ni1 to the Metalshield® Product Family
Press release date: January 16, 2013
Cleveland – Lincoln Electric introduces Metalshield® MC®-80Ni1, a premium, low-alloy, metal-cored wire. This metal-cored wire is designed to produce high strength and toughness and H4 diffusible hydrogen weld deposits required in such applications as structural and heavy fabrication or other high-strength welding applications that require a tensile strength of 550 MPa (80ksi).

Key Features:
• H4 diffusible hydrogen levels.
• Low spatter and excellent arc stability.
• Deoxidizing agents to minimize pre- and post-weld clean up.
• Enhanced silicon island management.
• Low temperature impact properties – Charpy V-Notch test results capable of exceeding 40 J (35 ft•lbf) @ -51° C (-60° F).
• Excellent bead shape and profile.

Metalshield® MC®-80Ni1 delivers low spatter and excellent arc stability and is great for semiautomatic and robotic applications. Enhanced silicon island management minimizes slag and eases slag removal.

Metalshield® MC®-80Ni1 is available in standard diameters of .045 in., .052 in., and 1/16 in. and packaged in 500 lb. Accu-Trak® drums and 33 lb. plastic spools.

To request a copy of Lincoln Electric's Metalshield® MC®-80Ni1 product literature, call (888) 355-3213 or visit www.lincolnelectric.com to obtain bulletin C3.11.8.

The Lincoln Electric Company, headquartered in Cleveland, Ohio, is the world leader in the design, development and manufacture of arc welding products, robotic arc welding systems, fume control systems, plasma and oxyfuel cutting equipment and has a leading global position in the brazing and soldering alloys market.

Pkg. 665

Media Contacts:
Greg Coleman – Greg_Coleman@lincolnelectric.com  or 216.383.2462