Product News: Welding Equipment & Supplies
Metal-Cored Wire offers optimized impact, cracking properties.
Press Release Summary: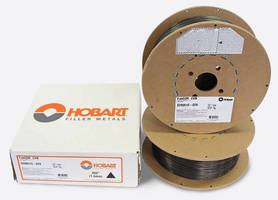 April 28, 2014 - Available in .045, .052, and 1/16 in. dia, Hobart® FabCOR® CVN wire is formulated to maximize impact properties at temperatures as low as -50°F to reduce risk of cracking in severe applications. Diffusible hydrogen levels under 3 ml per 100 g of weldment also increase cracking resistance. Operating with 75%–95% argon/CO2 balance, wire provides 77,000–86,000 psi tensile strength and can be used for single- or multi-pass welding in manual, mechanized, or automated applications.
Hobart Brothers, an ITW Company - Troy, OH
Original Press Release
New Metal-Cored Wire Offers Superior Impact Properties, Minimizes Weld Cracking Risks
Press release date: April 15, 2014
TROY, Ohio — The new Hobart® FabCOR® CVN metal-cored wire has been formulated to provide excellent impact properties at temperatures as low as -50 degrees Fahrenheit (-45 degrees Celsius) to reduce the risk of cracking in severe applications, including oil/gas piping and storage vessel welding; heavy equipment manufacturing; and structural fabrication. Low diffusible hydrogen levels (under 3ml per 100g of weldment) further increase cracking resistance, reducing the cost and downtime that rework makes necessary.
As with other Hobart-brand metal-cored wires, the FabCOR CVN wire offers high deposition rates and low spatter levels (compared to solid wires) to help improve productivity and improve weld quality. The wire's smooth arc characteristics assist welding operators in the creation of a uniform weld bead, and the minimal slag coverage reduces cleanup time and minimizes the chance of inclusions. The FabCOR CVN wire is capable of maintaining good mechanical properties after stress relieving, making it suitable for use in critical applications that require post-weld heat treatment (PWHT).
Available in three wire diameters — .045, .052 and 1/16 inch — the FabCOR CVN wire operates with a 75 – 95 percent argon/CO2 balance and provides a tensile strength ranging from 77,000 to 86,000 psi (depending on shielding gas balance and "as-welded" versus PWHT conditions). It can be used for single- or multi-pass welding in manual, mechanized or automated applications.
About Hobart Brothers Company
Hobart Brothers Company, headquartered in Troy, Ohio, is a leading manufacturer of the innovative Hobart® brand of filler metals, and is a wholly owned subsidiary of Illinois Tool Works, Inc.  The ITW Welding brand portfolio also includes Miller® branded welding and cutting equipment.
For more information, visit the Hobart Brothers Company website at
www.HobartBrothers.com
, call 1-800-424-1543, fax 1-800-541-6607, email
hobart@hobartbrothers.com
or write Hobart Brothers Company, 101 Trade Square East, Troy, OH 45373.