Product News: Electrical Equipment & Systems
Metal Clad Cable Connectors include sizes up to 4 in. in 3 materials.
Press Release Summary: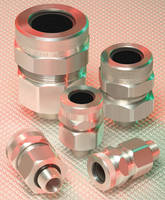 September 26, 2012 - Featuring PowR-Lock™ Grounding Seal, Metal Clad (MC) Cable Connectors come in sizes up to 4 in. in 3 materials: aluminum, nickel-plated aluminum, and stainless steel. One-piece construction of grounding tines and bushing means seal cannot come apart. Meeting NEMA 4 and IP65 requirements as well as meets UL standards for raintight metal clad cable fitting, these UL and CSA Certified products have embedded O-ring and form watertight seal around cable and at enclosure entry.
Remke Industries, Inc. - Wheeling, IL
Original Press Release
Remke Offers Expanded Line of Metal Clad Cable Connectors
Press release date: September 19, 2012
Remke Industries has expanded its line of Metal Clad (MC) Cable Connectors to include sizes up to 4 inches in 3 different materials – aluminum, nickel-plated aluminum and stainless steel.  All sizes of Remke MC Cable Connectors (1/2" to 4") are Made In the USA and are in stock.

A key difference between the Remke MC Cable Connector and competitor versions is our PowR-Lock™ Grounding Seal.  The 1-piece construction of the grounding tines and the bushing - an exclusive Remke design - means that the seal can't come apart and won't get lost in the field.  The PowR-Lock Grounding Seal is also smaller in profile and width than those from other manufacturers making it a better fit in tight spaces.

Labor & cost savings are another advantage for those using jacketed cable and Remke MC Cable Connectors.  Savings upward of 50% can be realized on the total installation cost versus pipe & wire.  Because MC cable can be installed right off the reel, fewer tools, equipment & laborers are required.  The time-consuming task of bending conduit is eliminated and there is much less scrap which means less waste (e.g. cost).  MC cable installation requires fewer than half the steps of pipe and wire installation.

Features of Remke Metal Clad Cable Connectors include:
• Available in sizes up to 4 inches & 3 different materials – aluminum, nickel plated aluminum and stainless steel
• Speed & Ease of Use – no disassembly required….simply tighten when cable reaches bottom of the connector
• Embedded O-Ring
• UL & CSA Certified
• Meets NEMA 4 and IP 65 requirements
• Meets UL standards for raintight metal clad cable fitting

Remke MC Cable Connectors form a watertight seal around the cable and at the enclosure entry for control centers, panel boards, junction boxes, motor control & electrical distribution equipment.

For more information about our MC Cable Connectors contact Remke Industries, 310 Chaddick Drive, Wheeling IL 60090 – or call us toll free at 800-383-1524 – or visit us online at www.Remke.com