Product News: Waste Handling Equipment
Mercury-Free Water Disinfection System uses UV-C LED technology.
Press Release Summary: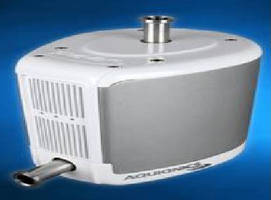 November 8, 2012 - Supporting stand-alone or integrated use, UV-Pearl can produce UV dose of 60 mJ/cm² at flow of 0.5 gpm with 50 mW of optical power. UV LED lamps emit waves of light in deep UV spectral range (UV-C), destroying microorganisms on cellular level. To target specific pathogens, LEDs can be tuned to wavelengths from 240–280 nm. System can withstand unlimited cycling without lamp degradation, is not affected by water temperature, and can continue to operate without any flow.
Original Press Release
Mercury-Free Water Disinfection from Aquionics
Press release date: October 23, 2012
UV-Pearl only device to offer UV-C LED technology for low power water treatment

Erlanger, Ky. – Aquionics' new UV-Pearl is the world's first water disinfection system to use UV-C LED technology, allowing instant full intensity on start-up and mercury-free water treatment. The compact system can operate as a standalone unit or be easily integrated into OEM devices, ultrapure water generators, process water loops, medical sterilization equipment and many other point-of-use applications.

The UV-Pearl uses highly efficient UV LED lamps, which emit waves of light in the deep UV spectral (UV-C) range that destroy microorganisms on a cellular level. The LEDs can be tuned to different wavelengths from 240-280 nm, allowing targeting of specific pathogens. The Pearl is capable of producing a UV Dose of 60mJ/cm2 at a flow of 0.5 gpm (1.89 lpm) with only 50mW of optical power. These results were repeated at two independent laboratories using the Bacteriophage MS2 virus as a subject, and represent a significant improvement from UV-C LED research presented over the last decade.

UV-Pearl is capable of withstanding unlimited cycling without lamp degradation. The system is not affected by water temperature and can continue to operate with no flow.

For more information about Aquionics and its family of products, visit the company's website at www.aquionics.com or call 1-800-925-0440.

To save a high resolution version of the image above please right-click on the image and choose 'Save Picture As...'. 
Alternatively, you can visit:
http://halmapr.com/aquionics/AQ Pearl EMAIL.jpg

This Press Release and an archive of all Aquionics news can also be found on the AQ News Blog at; http://halmapr.com/news/aquionics/

Company Profile:
Aquionics, a Halma Company, is a market leader in the manufacture, application and development of UV technology for progressive, non-chemical disinfection and microbiological control. The company's systems are used in a wide variety of applications including wastewater treatment, pharmaceutical manufacture, food and beverage production, microelectronics, pool disinfection, and specialized industrial settings.

Company Contact:
Oliver Lawal
Aquionics Inc.
21 Kenton Lands Road
Erlanger, KY 41018
USA
Tel: +1 859.341.0710
Fax: +1 859.341.0350
E-mail: sales@aquionics.com
Website: www.aquionics.com

Press Contact:
Rob Dietrich
Halma Holdings PR Services
11500 Northlake Drive, Suite 306
Cincinnati, OH 45249
USA
Tel: +1 513.898.8007
Fax: +1 513.898.8008
E-mail: rob.dietrich@halma.com
Website: www.halmapr.com