Product News: Sensors Monitors & Transducers
MEMS Microphones feature plastic packaging.
Press Release Summary: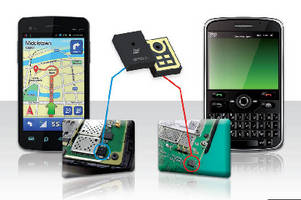 June 20, 2012 - Suitable for assembly on flat-cable PCBs in space-constrained consumer devices, MEMS Microphones in 2 x 2 mm plastic packaging allow manufacturers to place sound hole on top or bottom of package to ensure shortest acoustic path from environment. Microphones integrate internal shielding cage for electromagnetic immunity and are compatible with surface mount assembly machinery and pick-and-place equipment. Applications include mobile phones, laptops, tablets, and noise-cancelling headphones.
Original Press Release
STMicroelectronics Delivers MEMS Microphones in Plastic for Sleeker and Sturdier Gadget Designs
Press release date: June 4, 2012
MEMS champion leads the way with industry-unique, patented packaging process Geneva, - STMicroelectronics (NYSE: STM), a global semiconductor leader serving customers across the spectrum of electronics applications and the leading supplier of MEMS (Micro-Electro-Mechanical Systems) for consumer and portable applications[1], is the first company in the world that mass-manufactures MEMS microphones in plastic packages. The patented technology breakthrough saves space and increases durability in consumer and professional voice-input applications, from mobile phones and tablets to noise-level meters and noise-cancelling headphones. While other MEMS microphone manufacturers still produce devices with metallic lids, ST leads the way with industry-unique, innovative plastic packages. ST's novel microphone-assembly process ensures superior electrical and acoustic performance, unbeatable mechanical robustness, and slimmer form factors, while simultaneously advancing the microphone chip size reduction to 2x2 mm in devices that will soon arrive in the market. This technology development paves the way to introducing microphones embedded in silicon cavities as the ultimate step in device miniaturization. ST's MEMS microphones are suitable for assembly on flat-cable printed-circuit boards that simplify design in today's space-constrained consumer devices. The patented package technology allows equipment manufacturers to place the 'sound hole' either on the top or the bottom of the package to ensure the slimmest possible design and shortest acoustic path from the environment to the microphone. While the microphones with the sound hole on the top (top-port) suit the size and sound-inlet position requirements of laptops and tablets, the bottom-port microphones are mostly used in mobile phones. Stringent compression and drop tests have shown that microphones in plastic packages also outperform traditional metallic-lid devices in durability. When subjected to a force of 40N[2] - equivalent to placing a 4kg weight on the tiny chip - microphones in metallic packages collapsed, whereas ST devices in plastic packages remained intact. Similar results were obtained when devices from both categories were exposed to 40 drops from a height of 1.5m with a static force of 15N applied on the package. The superior robustness holds for both flat-cable printed-circuit boards (PCB) and traditional rigid PCB designs. ST's plastic-package microphones integrate an internal shielding cage for uncompromised electromagnetic immunity and are compatible with standard surface-mount assembly machinery and conventional pick-and-place equipment. ST's MEMS microphones suit a great variety of audio applications across existing and emerging market segments, including mobile phones, laptops and tablets, portable media players, gaming equipment and cameras, as well as noise-cancelling headphones and potentially even hearing aids. The microphones pair perfectly with the Company's Smart Voice processors for multi-microphone applications and Sound Terminal(TM) audio processing chips, forming a complete one-stop offering for advanced sound-input applications. Further information on ST's MEMS microphones can be found at
www.st.com/internet/analog/subclass/1564.jsp
About STMicroelectronics:
ST is a global leader in the semiconductor market serving customers across the spectrum of sense and power technologies and multimedia convergence applications. From energy management and savings to trust and data security, from healthcare and wellness to smart consumer devices, in the home, car and office, at work and at play, ST is found everywhere microelectronics make a positive and innovative contribution to people's life. By getting more from technology to get more from life, ST stands for life.augmented. In 2011, the Company's net revenues were $9.73 billion. Further information on ST can be found at
www.st.com
. [1] IHS iSuppli: H2 2011 Consumer and Mobile MEMS Market Tracker, February 2012 2 N = newton is the SI unit of force, equal to the force that produces an acceleration of one meter per second per second on a mass of one kilogram For Press Information Contact:
STMicroelectronics
Michael Markowitz
Director Technical Media Relations
+1 781 591 0354
michael.markowitz@st.com