Product News: Non-Industrial Products
Mechanic's Creeper has large wheels to roll over obstacles.
Press Release Summary: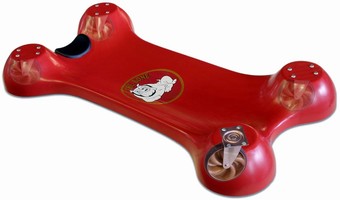 March 12, 2007 - Supporting up to 300 lb, Bone(TM) cradles one user 1¼ in. above ground between custom-molded, 5 1/8 in. dia wheels that are positioned outboard to provide stable working platform. Wheels are fastened to creeper body with four 5/16 in. dia thru-bolts and feature oil-impregnated center bearings and molded-in-place 1 in. wide tires. Molded of engineering-grade copolymer, one-piece rib-reinforced body resists effects of common solvents and occupies 47 x 25½ in. footprint.
Original Press Release
The Best Mechanic's Creeper Ever Built?
Press release date: March 6, 2007
The original Bone(TM) creeper, first choice of professional auto techs and hardcore auto enthusiasts for more than ten years, is now sporting a brand new set of wheels, designed from the ground up specifically for this creeper. Many of those who have used it call it the "Best mechanic's creeper ever built!"
The Bone still features it's uniquely shaped body which cradles the user between the wheels, - only an inch or so above the ground, and positions the big, easy rolling wheels outboard to provide a strong, stable working platform that can't tip or flip the user. The rib-reinforced body is molded of a state-of-the-art, engineering grade co-polymer to resist the effects of common solvents, so cleaning is quick and easy at the end of the job. The smooth, comfortable one-piece design has no cracks, corners or other pinch points, and the outboard wheel pods prevent tipping and flipping. The Bone body is a patented design which allows the use of large diameter wheels with specially formulated tires that roll easily over all sorts of obstacles, including rough floors, drop cords and air lines, loose parts and even tools and floor grates. The wheels are fastened to the creeper body with four 5/16" dia. thru-bolts so they can't pull tear out or break off in any common use situation. How good are they? The manufacturer guarantees them for the life of the creeper!
But this year the Bone is sporting a brand new set of wheels! Ordinary creeper wheels are a conventional creeper's weakest point. They're too small, so they get hung up or stopped by even the tiniest obstacles. And they have a real knack for tearing out or breaking off at the worst moment. To add insult to injury, the replacement wheels can cost almost as much as a new creeper.
Improving the original Bone wheels wasn't easy, but the new models offer several distinct advantages over the initial design. New, custom-molded, 5-1/8" diameter wheels with oil-impregnated center bearings and specially formulated, molded-in-place 1" wide tires roll even easier and last even longer than the original design. Like the wheels they are replacing, the heavy gauge cad-plated steel caster frames have dual race ball bearing swivels and are thru-bolted to the creeper body. Best of all, they're still guaranteed for the life of the creeper, and there is no additional cost for this significant product improvement!
The Bone(TM) is not strictly limited to the automotive market. Recently, the Industrial market has picked it up for use on machine maintenance, and they can even be found at amusement parks for inspecting roller coasters!
The Bone(TM) is 47" long, 25-1/2" wide, has about 1-1/4" ground clearance and weighs in at about 23 lbs. The wheels are warranted for the life of the creeper, and the body carries a limited one-year warranty. The Bone(TM) is available now from major auto, industrial and truck tool & equipment dealers, as well as leading tool catalog outlets.
Specifications: The Bone(TM) Length:..............47-inches Width:...............25.5-inches Weight:..............23 lbs Ground Clearance:....1-1/4" Capacity.............300 lbs. Wheels:..............5-1/8" dia. Body:................1-piece, molded co-polymer
Warranty Wheels:...........Warranted for the life of the creeper Body:.............Warranted for 1-year from date of purchase
Manufacturer: Dale Adams Enterprises Jeremy Adams, VP Sales 315 Gougler Avenue Kent, OH 44240 Tel: 330-677-1123 Fax: 330-677-4130 Toll Free: 800-266-3321 Email: sales@bonecreeper.com Web Site:
www.bonecreeper.com