Product News: Sensors Monitors & Transducers
Materials Testing Systems incorporate intuitive touchscreen.
Press Release Summary: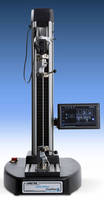 January 10, 2013 - Using linear guide technology, pre-loaded ball screws, and software compensation systems to promote precision displacement measurement, CHATILLON® CS225 and CS1100 are, respectively, 225 and 1,124 lbf, single-column machines with 180 and 150 mm throat depths. Both machines, used for tensile, compression, sheer, flexural, or multi-stage testing, feature 8.9 in. industrial-grade touchscreen (IP65) designed for continuous operation by users of all levels in production environment.
AMETEK Test & Calibration Instruments - Largo, FL
Original Press Release
Ametek Launches Two New Chatillon® Advanced Force Test Systems for Materials Testing
Press release date: January 8, 2013
CHATILLON ® CS Series Combines Latest Precision Measurement Technology with an Intuitive Touch Screen Functionality
LARGO, FL—AMETEK Test & Calibration Instruments has introduced two additions to its CHATILLON® line of advanced materials testing systems: the CHATILLON CS225 and CS1100. Both single-column machines feature the latest linear guide technology, pre-loaded ball screws and advanced software compensation systems, ensuring the highest level of precision displacement measurement. The newest feature is a robust, reliable, user-friendly touch screen designed specifically for use in production environments by users of all levels.
The CHATILLON CS225 is a 225 lbf/ 1000 N machine. It features a large work area with 180 mm throat depth. The CHATILLON CS1100 is an 1124 lbf/5000 N machine. It features a large work area with 150 mm throat depth. Both machines are available with an extensive range of grips, fixtures, extensometers and software options and a wide range of work tables for increased flexibility. Both models are easy to use with intuitive systems for tensile testing, compression testing, sheer testing, flexural testing or advanced multi-stage testing that conform to ISO or ASTM testing procedures.
The CS Series has an 8.9" industrial-grade touch screen (IP65) that has been designed for easy continuous operation in a production environment. The screen is dust protected and can withstand liquid spills and splashes. It is not only rugged but easy to operate, making it the perfect interface for users regardless of their skill level. A few touches are all it takes to set up a test, select test runs and present reports.
Among the industry applications for the CS Series are plastics, packaging, medical devices, automotive, electronics, textiles, rubber and pharmaceuticals. Both machines are ideal for the manufacturing and testing of both inbound and outbound products and materials.
Reports can be done as both .pdf and .csv files. Data storage can be done easily internally or on an external server, which provides for efficient procedures for documenting yields, product quality and performance.
The CS units feature two levels of user access: supervisor and operator. Both levels can be password protected. The supervisor level has complete system access, while the operator level can be configured to only have specified tests or test functions. To enhance ease of use, specific tests can be defining as favorites to be displayed on the startup screen for immediate testing.
For more information on CHATILLON CS Series, contact AMETEK Test & Calibration Instruments, 8600 Somerset Drive, Largo, FL 33773 USA. Phone: +1 (727) 538-6000. Fax: +1 (727) 539-6882. E-mail:
chatillon.fl-lar@ametek.com
Web site:
www.chatillon.com
AMETEK Test & Calibration Instruments is among the world's leading manufacturers of calibration instruments for temperature, pressure, and process signals and a unit of AMETEK Measurement & Calibration Technologies, a division of AMETEK, Inc., a leading global manufacturer of electronic instruments and electromechanical devices with annual sales of  more than $3.0 billion.