Materials Testing Device continuously observes microscopic events.
Press Release Summary: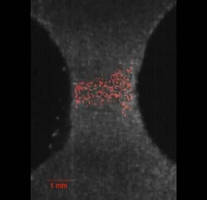 June 4, 2014 - Enabling observation of microscopic events in real-time, FlexRHINO DynaMat helps engineers and researchers understand processes leading to material weakening and failure. Device uses continuous monitoring (high spatio-temporal dynamics) technology, works with virtually any crystalline material, and captures microscopic damage, prior to total failure, occurring at relatively ordinary loads and stress conditions. Use of optical technology provides temperature, pressure, and chemical resistance.
Original Press Release
DynaMat from ProtoRhino Peers Into the Microscopic Realm, Enables More Precise and Detailed Materials Testing for Product Developers
Press release date: May 27, 2014
HELSINKI -- The industrial measurement specialists at ProtoRhino (
http://www.protorhino.com/
) are excited to announce the release of FlexRHINO DynaMat, a new device that will help engineers and researchers better understand the processes leading to material weakening and failure. DynaMat is unique in that it enables the observation of microscopic events, which have always been difficult, if not impossible, to detect in real-time.
"The response to DynaMat has thus far been overwhelming," commented ProtoRhino CTO Pasi Karppinen. "We are thrilled to be part of pushing the current limits of materials testing."
As a rule, material failure always begins at the microscopic level, with events measured in microseconds. When a certain threshold is reached, this accumulated damage can lead to sudden cracking and breakage. DynaMat helps engineers observe this process as part of quality control or simply identifying a material's structural limits.
The many benefits of DynaMat make it a superior choice compared with traditional testing and monitoring approaches, such as visual inspections. For instance, the microscopic damage that occurs prior to total failure can occur at relatively ordinary loads and stress conditions. DynaMat effectively captures damage occurring in these circumstances.
DynaMat is an optical-only technology, making it ideal for extreme conditions like high temperatures and pressures or harsh chemical environments. Monitoring equipment that requires direct contact is often limited in its application. The technology works with virtually any crystalline material. Prospective clients are encouraged to contact ProtoRhino to learn whether DynaMat is suitable for their particular industry.
Materials testing and measurements involves instantaneous events; some testing processes, however, require weeks to conduct. DynaMat addresses this fundamental measuring problem via continuous monitoring, a feature the designers refer to as "high spatio-temporal dynamics." The development of slippages, micro-cracks or any other noteworthy events, which transpire rapidly and without warning, are captured by the monitoring technology.
DynaMat is suitable for a range of testing schemes, including fatigue testing, tensile strength and bending measurements, and creep testing. Material fatigue is often a result of cyclic loading, which may not be especially great. Gradually, microscopic changes in the material lead to weakening and then sudden failure. Fatigue testing has always presented a challenge to engineers, as in practice the damage takes years to develop and is not readily observable.
Product developers rely on bending and tensile strength testing to assess new materials or to ensure quality control. Because failure begins at the material's surface, DynaMat's optical measurement technology is an ideal solution for this form of testing.
DynaMat is also an effective tool in detecting and measuring creep, the kind of weakening that results from continuous loading. The challenge with creep testing has always been that normal macroscopic deformations can disguise more serious microscopic cracks, cavities and slippages. DynaMat ignore the macro level so as to focus solely on the micro level, ensuring that new materials are adequately resistant to this sort of failure.
Global sales of FlexRHINO DynaMat began this spring, and the company expect the first units to ship out later this year. ProtoRhino continues to develop innovative and problem-solving measurement technologies that are adaptable to a broad range of industries.
About ProtoRhino
ProtoRhino focuses on solving the hardest measurement challenges. Our business success is based on the extensive instrumentation expertise of our employees coupled with our strong scientific measurement background. ProtoRhino boasts 20 years of expertise in scientific measurement and instrument development.
Video -
http://www.youtube.com/watch?v=Q_xiFyXjv08
CONTACT: Antti Peltonen, ProtoRhino Ltd., Pasilanraitio 5, Helsinki, FinlandS, +358 (0) 10 292 0360,
info@protorhino.com