Product News: Material Handling & Storage
Material Handling Carts fold and store without tools.
Press Release Summary: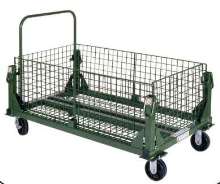 June 28, 2004 - Mac Rack(TM) and Mac Rack II(TM) each have 8 storage arms and are suited for transporting conduit, strut, threaded rod, PVC pipe, and copper tubing. With one large cradle, Bundle Mac(TM) transports larger quantities of same materials. Functioning as platform truck, Flat Mac(TM) moves large, heavy objects around jobsite, while 'Tainer Mac(TM) lifts boxed wire, hand tools, and other jobsite materials to elevated location. Each stackable cart has 6 in. casters and powder-coat finish.
Sumner Manufacturing Co., Inc. - Houston, TX
Original Press Release
Stacking Mac Racks(TM) - Five Versatile Carts that Easily Fold and Store Without Tools
Press release date: June 17, 2004
HOUSTON, TX (June 17, 2004) - The Sumner® Stacking Mac Racks(TM) accommodate a wide range of material handling needs and can be stacked for easy transport and storage.

The Stacking Mac Racks come in 5 diverse models to address a wide range of material handling needs. Mac Rack(TM) and Mac Rack II(TM) each have 8 storage arms and are ideal for transporting conduit, strut, threaded rod, pvc pipe, copper tubing, etc. Bundle Mac(TM) features one large cradle and can transport large quantities of these same materials. Functioning as a versatile platform truck, Flat Mac(TM) provides an easy alternative to moving large heavy objects around on the jobsite floor. However, if you are in need if having your boxed wire, hand tools, or other general jobsite materials lifted to an elevated location, 'Tainer Mac(TM) can easily hold your materials and will securely attach to a crane for hoisting.

All five models are interchangeably stackable which yields sizable savings in storage space. To ensure safe and easy stacking, the caster mounting plates have been designed to securely engage when the racks are being stacked. No tools are required as plunger pins are used to secure and release the arms and sides of all of the Stacking Mac Racks(TM). Each cart comes assembled with 6" heavy duty casters and features a durable powder coat finish.

o Fully assembled, including casters - SUMNER Exclusive o Fold down arms, no tools required - SUMNER Exclusive o Stackable for storage - SUMNER Exclusive o Heavy wall, one-piece storage arms - SUMNER Exclusive o Durable powder coat finish - SUMNER Exclusive