Product News: Electrical Equipment & Systems
Marine Searchlights feature dual light head platform.
Press Release Summary: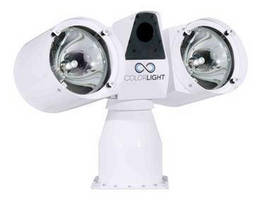 April 3, 2014 - Offering unlimited horizontal and vertical movement, Colorlight Searchlights can be fitted with variety of lighting technologies, including hydrargyrum medium-arc iodide lamps, LEDs, and ultraviolet lamps. Units feature sealed gears and brushless servo motors, parabolic reflectors that provide over 90% light transmission efficiency, and beam angle that can be focused steplessly throughout 3–20° range. Up to 16 lights and control panels can be networked together over Ethernet.
Original Press Release
IMTRA Announces Colorlight Searchlight Range
Press release date: March 26, 2014
Innovative and Versatile Searchlight Solutions Now Available from Leading Marine Distributor
New Bedford, Mass. – IMTRA, the leading manufacturer and importer of quality marine products, announced today the addition of Colorlight high-output searchlights to their product range. Offering unparalleled and unlimited horizontal and vertical movement, the unique Colorlight searchlights feature a dual light head platform. Operators have the flexibility to choose dual light beam models that allow half or full power with built-in redundancy in case of bulb outages; or models with two different light spectra technologies within the same fixture for maximum flexibility. Imtra will distribute, service and support the entire range of Colorlight spots and searchlights throughout North America for both marine and non-marine industrial applications.
Colorlight searchlights feature paired light housings that can be fitted with a number of different lighting technologies, a key differentiating feature of the brand. For maximum brightness, range and "daylight" color temperature, efficient and exceptionally bright HMI (hydrargyrum medium-arc iodide) lamps are available. For moderate range applications, the Colorlight digital LED models feature very low power consumption and 50,000-hour lamp life. Low-frequency UVA (ultraviolet) "black light" lamps have proven extremely effective in poor visibility conditions and for oil spill detection. The popular UV lamps can be operated alone or in combination with other lamps within the same-paired unit. Designed specifically to endure a harsh marine environment, each light fixture can be controlled independently or in unison, manually or via a preset program. In addition, for applications that require heat signature imaging, Colorlight searchlights can be factory-configured to include a thermal imaging camera installed between the two light housings, maximizing equipment utilization while conserving space on the bridge roof.
"Colorlight has developed an exceptional line of marine spot and searchlights that can be customized with the integral capabilities our customers need," said Colby Chevalier, lighting sales director, IMTRA. "The Colorlight range, backed by IMTRA's highly-trained technical sales force and superior customer support, perfectly meets the needs of our growing commercial customer segment."
"When searching for the right partner to grow Colorlight's position in the North American market, we looked for a company with strong technical capabilities and a keen understanding of the marketplace," said Mattias Svensson, managing director, Colorlight AB.  "IMTRA has these skills and shares our view that exceptional customer service and integrity are key elements to a successful business relationship."
Cost efficient to install, operate and maintain, Colorlight searchlights feature sealed gears and brushless servo motors that do not require planned maintenance for the first ten years of operation barring occasional bulb replacement. Active system monitoring provides real-time feedback on condition of the motor and bulbs. Fully networkable, a combination of up to 16 Colorlight searchlights and control panels can be networked together over Ethernet. An open protocol CAN-bus design allows seamless communications with today's modern navigation systems. Colorlight searchlights feature coated parabolic reflectors that provide over 90% light transmission efficiency, and a beam angle that can be focused steplessly throughout a 3- to 20-degree range. Extremely versatile, the searchlights have unlimited, 100% vertical and horizontal maneuverability, and dual axis stepless speed control of 0 to up to 33 degrees per second. The IP66 acid-proof stainless steel housing can be mounted upright or hanging upside down. Automatic control options include sweep, surveillance, fixed-position and network synchronization. Colorlight searchlights are backed by a two-year limited warranty.
Pricing and Availability
Colorlight marine searchlights are currently available for sale through approved marine retailers, shipyards and marine retrofitters throughout the United States and Canada, as well as online at
www.imtra.com
. For more information on Colorlight marine searchlights, IMTRA's complete line of lighting products, IMTRA or its entire product line, please contact 508-995-7000 or visit
www.imtra.com
.
About IMTRA:
IMTRA, based in New Bedford, Massachusetts, is an importer and manufacturer of high quality consumer marine products, advanced LED solutions and integrated marine systems, as well as a key supplier to the OEM and aftermarket. With over 60 years in the marine business, IMTRA has sales and support teams in 10 regions throughout North America. The company's extensive product knowledge is available to its customers through a renowned full-service department and professional customer service group. Product categories include Lighting, Thrusters, Stabilizers, Anchoring Systems, Wipers, Antennas, Gangways and other specialty products. In addition to their own proprietary products, IMTRA represents well-known international brands that include Side-Power, NorSap, Vimar, Lofrans, Muir, Exalto, Colorlight and many more.
www.IMTRA.com/about-IMTRA.htm
.