Product News: Machinery & Machining Tools
Manipulators balance random weights automatically.
Press Release Summary: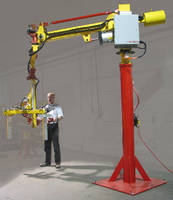 April 3, 2014 - With pneumatic AutoBalance feature, Manipulators automatically balance unknown weights as they lift them. Load is gripped and operator pulls up on manipulator's handlebars. Balance point rises until load lifts off floor and AutoBalance memorizes weight. From that point on, operator can let go of handlebars and pull load itself up and down in balanced state. Feature is useful when lifting same shape part in factory, but where there are 2 or more weights, or where weight varies randomly.
Original Press Release
Manipulator Balances Random Weights Automatically
Press release date: April 2, 2014
Givens Engineering Inc. has developed a pneumatic feature for its manipulators called "AutoBalance" (patented) that automatically balances random, unknown weights as it lifts them.  A load of unknown weight is gripped and the operator pulls up on the manipulator's handlebars.  The balance point rises until the load lifts off the floor and AutoBalance "memorizes" the weight.  From that point on, the operator can let go of the handlebars and pull the load itself up and down in a balanced state.  Or, the operator can continue to maneuver the load using the handlebars. There are no up/down pushbuttons because simply pulling up or down causes the manipulator to float in a balance state, resulting in fast, accurate movement.  The feature is especially useful with lifting the same shape of part in a factory, but where there are 2 or more weights, or where the weight varies randomly.
For more information and details on AutoBalance Manipulators call (519) 453-9008 or email to
ray@giveng.com
Givens Engineering is an innovative engineering company building a wide variety of cranes, manipulators and material handling equipment. It is located just off the 401 in London, Ontario and only a two hour drive from Detroit, Michigan. Whatever your material handling requirements, Givens offers a solution. Let Givens Engineering help to lift your business.
Contacts:
Ray Givens, P.Eng,
327 Sovereign Road
London, ON N6M 1A6
Canada
Tel: (519) 453-9008,
Fax: (519) 453-0666