Product News: Material Handling & Storage
Maneuverable Walkie Straddle Stacker carries up to 4,000 lb.
Press Release Summary: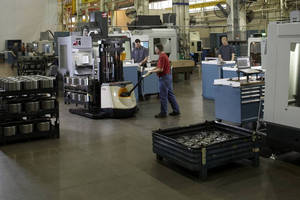 May 21, 2014 - With 192 in. max lift height, maintenance-free battery pack, and 30 A, 120 V onboard charger, Crown SX 3000-40 lets operators maneuver in tight spaces and stack single pallet loads 3 levels or higher. Brake override function enables travel with handle in near vertical position, allowing truck to turn in area almost equal to its own footprint, and X10® Handle has ergonomic, cast aluminum design. Able to be used in 6–7 ft aisles, stacker also features low-profile power unit and clear mast design.

Crown Equipment Corp. - New Bremen, OH
Original Press Release
Crown Equipment Introduces a New 4,000-Pound Capacity Walkie Straddle Stacker
Press release date: May 13, 2014
NEW BREMEN, Ohio – Crown Equipment Corporation, one of the world's largest material handling companies, recently expanded the capacity range of its Crown SX 3000 Series stacker. Available in North America and Latin America, the new Crown SX 3000-40 walkie straddle stacker has a maximum load capacity of 4,000 pounds and a maximum lift height of 192 inches.
The Crown SX 3000-40 allows operators to easily maneuver in small spaces, such as those commonly found in grocery and retail facilities, and stack single pallet loads three levels or higher to save space and improve product selectivity. Its compact design and innovative controls provide a safe and effective way to maximize storage space and improve efficiency. The stacker includes Crown's exclusive X10® Handle that features advanced ergonomics and a durable, cast aluminum design. The brake override function allows travel with the handle in a near vertical position so the truck can turn in an area almost as small as its own footprint, providing exceptional maneuverability and reducing the risk of damage to the truck, load and facility.
"Operators who utilize the Crown SX 3000 Series stackers appreciate the benefits they provide," said Rod Squires, product manager, Crown Equipment. "The stackers are a dependable and durable addition to any forklift fleet where there is a need to carry and stack heavy loads while maneuvering in tight spaces."
Unlike typical counterbalanced trucks that require an 11- to 13-foot aisle to operate, the Crown SX 3000-40 allows managers to use six- to seven-foot aisles so they can stack more product in the same size room. With the pallets stacked vertically on an organized rack system, operators are able to quickly locate and select the desired product without having to move numerous loads. The stacker's low-profile power unit and clear mast design improve operator visibility while working with elevated loads or moving products throughout the facility.
The Crown SX 3000-40 comes standard with a maintenance-free battery pack and a 30-amp, 120-volt onboard charger so battery charging can take place anywhere in the facility. It joins the Crown SH 5500-40 as a second 4,000-pound walkie straddle stacker option available to match customers' specific applications and duty-cycle requirements.
About Crown Equipment Corporation
Crown Equipment is one of the world's largest material handling companies. Crown's award-winning line of forklifts maintains a reputation for advanced product design, engineering and technology, and integrated manufacturing processes. Offering a broad range of forklifts, as well as automation and fleet management technologies, Crown seeks to provide customers with forward thinking and innovative products designed to improve performance and lower operating costs. Headquartered in New Bremen, Ohio, with regional headquarters in Australia, China, Germany and Singapore, Crown operates a global service and distribution network. Additional information about Crown's ideas for helping its customers advance the productivity of their operations and accomplish more can be found at
crown.com
.
tony castillo
Senior Counselor
4380 Buckeye Lane, Suite 210
Beavercreek, OH 45440
main: 937.560.2840
direct: 937.560.2858
cell: 937.344.1937
fax: 937.560.2841
www.fahlgrenmortine.com