Product News: Test & Measuring Instruments
Maneuverable Pipe Inspection Camera works in limited-access areas.
Press Release Summary: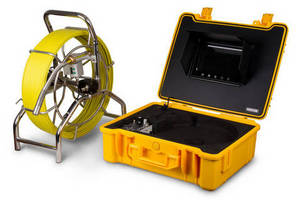 August 20, 2014 - Able to be used in pipelines with bends, curves, and corners, VIPER ADV features PVC-coated fiberglass probe and long spring joint that promote pushability and maneuverability. Probes are 6.5 mm in diameter and come in 131.2 and 196.8 ft lengths, while 1.0 in. dia camera head is equipped with HD CCD chip and super bright LED lights and is protected by Sapphire lens. Packed into waterproof case, control unit features 9 in. TFT color LCD, control buttons, SD memory card slot, and video output.
Fiberscope.net by MEDIT - Winnipeg, MB, CAN
Original Press Release
Medit Inc. Announces VIPER ADV Pipe Inspection Camera - Highly Maneuverable Device that Can Look Into Areas with Limited Access
Press release date: August 19, 2014
The New Sophisticated Camera is Capable of Travelling Past Multiple Bends and Curves in the Pipeline without Compromising Inspection Image Quality
Medit Inc, big online supplier of NDT equipment and accessories that has been successfully operating in North America and around the world, is happy to introduce a new advanced camera – VIPER ADV Pipe Inspection Camera (
http://www.fiberscope.net/inspection-camera-viper-adv.html
).
The VIPER ADV is an inspector's lifesaver as there are practically no limits to where it can go: areas with obstructed or limited access, bends, curves and corners in the pipelines. The camera's pushability and maneuverability are enhanced due to a wider PVC-coated fiberglass probe with a long spring joint at the end. The probes are 6.5mm in diameter and come in two lengths – 40 m (131.2') and 60 m (196.8'). The sturdy stand-alone reel allows to store the probes safely and contributes to inspections' overall comfort and safety.
The Ø 23mm (1.0") camera head is equipped with a high-definition CCD chip, super bright LED lights and protected by a Sapphire lens – all these features contribute to high-quality inspection images that can be captured in most awkward inspection settings. Light intensity can be adjusted depending on the light conditions either by using buttons on the control unit.
The control unit is packed into a compact waterproof case and features a 9" TFT LCD color display, control buttons, SD memory card slot and video output. Depending on the requirements, the inspection data can be viewed as snapshots or video during inspection process, saved to an SD card for further analysis or transferred to a bigger monitor through the video output.
The VIPER ADV Set also features two camera centering skids, built-in 512Hz frequency sonde for camera's precise location within the pipe and a length counter to track how much probe is inserted in the pipe.
"We are proud to introduce VIPER ADV Camera Set to our clients as it is designed to successfully tackle extremely challenging inspection tasks" – Terry Peristerakis, Medit Inc. Sales Manager
For more information visit
http://www.fiberscope.net