Product News: Electrical Equipment & Systems
Magnification Lamp facilitates small parts inspection.
Press Release Summary: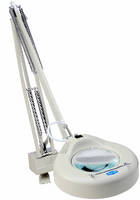 January 21, 2014 - Featuring 3x magnification and 22 Watt circular fluorescent bulb, ProVue 8D Workbench Lamp produces broad, cool, shadow-free light for precision assembly, inspection, or design. Unit has 5 in. glass lens that provides 360° undistorted viewing and 45 in. spring-balanced arm that allows wide range of stationary positioning. Additional features include white metal housing, mounting clamp, and 5 ft power cord.
Original Press Release
New Fluorescent ProVue Lamp Is Ideal for Small Parts Inspection
Press release date: January 20, 2014
ANN ARBOR, MI –  The latest magnification lamp model in the ProVue line from Aven, Inc. features 3X magnification (8 diopter) and fluorescent illumination.
The 22-watt circular bulb provides broad, cool, shadow-free light for precision assembly, inspection or design.
"With high magnification and bright lighting, this ProVue 8D workbench lamp reduces eye strain and vision fatigue for high-volume industrial users," says Mike Shahpurwala, president of the optical instruments supplier. "It's also suited for repair operations and scientific research labs."
The five-inch glass lens provides 360-degree undistorted viewing, and a 45-inch spring balanced arm allows a wide range of stationary positioning. The ProVue 8D has a white metal housing, mounting clamp and five-foot power cord.   
Replacement bulbs, a 3 diopter auxiliary lens and a 5 diopter swing-away lens are available as options. Five other ProVue choices include lower-magnification models and LED illumination, including ultraviolet lighting.   
For more information, call Aven at (734) 973-0099. A digital catalog is at
www.aventools.com/print-and-web-materials
.             
Aven will be at Booth 4449 during the Automation Technology Expo (ATX) West in Anaheim, Calif., from Feb. 11-13, 2014.
Aven, Inc. manufactures and distributes high-performance optical instruments and precision tools for microscopy, inspection and assembly. More than 800 products include video inspection systems, integrated portable microscopes, video borescopes, task lights and stainless steel tools for lab use and precision hand tools such as tweezers, pliers, cutters, screwdrivers, crimpers, knives and alignment tools. Brands include Mighty Scope, iLoupe, Miruc, Carton, Technik and Accu-Tek. A technology innovator since 1983, Aven is located in a high-tech corridor of Southeast Michigan.