Product News: Electrical Equipment & Systems
Low-Profile PDUs feature thermal management.
Press Release Summary: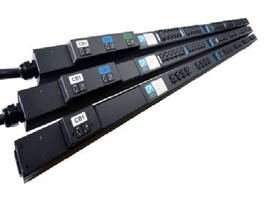 November 14, 2012 - Designed for enterprise data centers, eConnect™ Power Distribution Units have low-profile design that minimizes airflow disruptions. Products are available in over 160 configurations and have ambient air temperature rating of 149°F. Up to 20 PDUs can be monitored and switched from single IP address. Products are available in UL-listed, CE marked Basic, Monitored, Monitored Pro, Switched, and Switched Pro models.
Chatsworth Products, Inc. - Westlake Village, CA
Original Press Release
CPI's New eConnect(TM) PDUs Integrate Thermal Management with Intelligent Power Solutions
Press release date: October 30, 2012
WESTLAKE VILLAGE, Calif. - Chatsworth Products, Inc. (CPI), a global manufacturer providing products and solutions that optimize, store and secure technology equipment, is proud to introduce eConnect™ Power Distribution Units (PDUs) as a new generation of power management solutions for enterprise data centers. Offering a low profile design that reduces airflow disruptions, an ambient air temperature rating of 149 degrees F (65 degrees C) and more than 160 standard configurations, eConnect PDUs are the ultimate connecting point between thermal innovation and intelligent power distribution.

Available in five models with numerous outlet and plug configurations, eConnect PDUs provide a broad range of functionality that spans from establishing basic connections to equipment, to remote access with monitoring and switching capabilities on each individual outlet. All eConnect PDUs are also UL Listed in the US and Canada, and CE marked for use in the European Union. Models currently available include the Basic, Monitored, Monitored Pro, Switched and Switched Pro eConnect PDUs.

"The eConnect product line represents a major step for CPI in becoming a world class in-rack power distribution provider," said Anderson Hungria, CPI Sr. Product Manager for Power and Electronics. "A lot of engineering, testing and attention to specific customer needs, like flexibility and thermal concerns, went into designing these PDUs. And looking at the finished product you can see that CPI is highly committed to expanding its power capabilities within data centers."

All eConnect PDUs are available globally and include the following features:

    -  An ambient temperature rating of 149 degrees F (65 degrees C), which is
        capable of supporting any hot aisle containment solution
    -  A low profile design with universal tool-less mounting that easily
        integrates into your cabinet's zero U space for maximized cabinet space
        and airflow
    -  Numerous voltage and outlet options
    -  Selected eConnect models also include quick and easy setup for remote
        monitoring and switching, IP consolidation of up to 20 PDUs  from a
        single IP address and easy set-up from an interactive local display

CPI's online Product Configurator allows data center managers and designers the opportunity to choose PDUs based on specific needs, including input voltage, outlets (IEC C13, IEC C19 and NEMA 5-20R), monitoring, switching and other power management requirements. Technical Data Sheets for each model are available at www.chatsworth.com/econnect and in the Documentation Center on CPI's website.

About Chatsworth Products, Inc.

Chatsworth Products, Inc. (CPI) is a global manufacturer providing voice, data and security products and service solutions that optimize, store and secure technology equipment. Headquartered in the US, CPI operates global offices within the US, Mexico, Canada, China, the Middle East and the United Kingdom.

More Information                                
Visit: www.chatsworth.com
Email: info@chatsworth.com
Toll-Free: 800-834-4969

All products quoted are subject to availability based on manufacturing capacity and shipping dates should be considered estimates only. While every effort has been made to ensure the accuracy of all information, CPI does not accept liability for any errors or omissions and reserves the right to change information and descriptions of listed services and products.

©2012 Chatsworth Products, Inc. All rights reserved. CPI, CPI Passive Cooling, MegaFrame, Saf-T-Grip, Seismic Frame, SlimFrame, TeraFrame, GlobalFrame, Cube-iT Plus, Evolution, OnTrac, QuadraRack and Velocity are federally registered trademarks of Chatsworth Products, Inc. eConnect and Simply Efficient are trademarks of Chatsworth Products, Inc. All other trademarks belong to their respective companies.

SOURCE 
Chatsworth Products, Inc.

Web Site: www.chatsworth.com