Product News: Display & Presentation Equipment
Low-Profile Mid-Power LED promotes diver design opportunities.
Press Release Summary: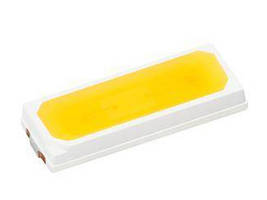 May 15, 2014 - Supplied in 4 x 1.4 x 0.57 mm plastic package, Synios E4014 provides uniform light distribution and does not have lens. Color temperatures range between 4,000K and 5,000K and can be tailored to application requirements. Other figures include CRI of 80, 0.5 W power rating, brightness of 41 lm @ 100 mA, and ESD stability of 5 kV. Suited for injecting light into light guides, LED suits such primarily uses as visually enhancing white goods, lighting systems in vehicles, and displays.

OSRAM Opto Semiconductors - Sunnyvale, CA
Original Press Release
Ultra Low-Profile Synios E4014 LEDs Increase Freedom of Design
Press release date: May 6, 2014
Compact mid-power LED from Osram Opto Semiconductors is ideal for injecting light into light guides
The low-profile rectangular shape of the new Synios E4014 from Osram Opto Semiconductors enables the light from this LED to be injected into light guides so that a wide range of design ideas can be realized. The mid-power light emitting diodes also have an impressively robust plastic package, a very uniform distribution of light, and an excellent price/performance ratio. The LEDs are intended primarily for visually enhancing white goods such as appliances and for lighting systems in vehicles and displays.
The extremely low height of the Synios – only 0.57 mm – and its tiny footprint of 4 mm x 1.4 mm provide the ideal solution for low-profile, elongated luminaires and lighting designs, including display backlighting. The LEDs do not have a lens so they can easily be used for injecting light into light guides. The new E4014 opens up a whole range of design-oriented lighting solutions, such as integration in the glass shelving in refrigerators and other white goods, car interior lighting, and strip lighting on the floors of buses and trains.
"White goods appliances are not typically known for their premium lighting design. The new Synios is ideal for enhancing the look of household appliances and for meeting the more demanding requirements of enhanced lighting design. For lighting tasks at a lower performance level, we already offer the Topled E3014 in our portfolio," said Gary Schneider, Program Manager at Osram Opto Semiconductors.
Where each of the two light emitting diodes is used depends on the requirements of the particular application. If brightness and color fidelity are mandatory, then Synios at 41 lm and a color rendering index (CRI) of 80 is the right choice. If brightness is not as important, then the Topled with 7.3 lm at 20 mA is an ideal alternative.
The color temperatures of Synios are between 4000 and 5000 K and can be tailored perfectly to the particular application. The robust plastic package is one of the benefits of the new Synios LED, in addition to the extremely uniform distribution of light, high efficiency, excellent flexibility and long life of around 50,000 hours. In view of the intended applications, the ESD stability is 5 kilovolts (kV).
Technical data:

| | | |
| --- | --- | --- |
|   | Synios E4014 | Topled E3014 |
| Package dimensions | 4.0 mm x 1.4 mm x 0.57 mm | 3.0 mm x 1.4 mm x 0.8 mm |
| Beam angle | 120° | 120° |
| Brightness | 41 lm at 100 mA | 7.5 lm at 20 mA |
| Power | 0.5 W | 0.1 W |
| Color rendering index CRI | 80 | 70 |
| ESD stability | 5 kV | 2 kV |
http://www.osram-os.com/pr-Synios
ABOUT OSRAM OPTO SEMICONDUCTORS
OSRAM GmbH of Munich, Germany is one of the two leading light manufacturers in the world. Its subsidiary, OSRAM Opto Semiconductors GmbH in Regensburg (Germany), offers its customers solutions based on semiconductor technology for lighting, sensor and visualization applications. Osram Opto Semiconductors has production sites in Regensburg (Germany) and Penang (Malaysia). Its headquarters for North America is in Sunnyvale (USA), and for Asia in Hong Kong. Osram Opto Semiconductors also has sales offices throughout the world. For more information go to
www.osram-os.com
.
Press Contact:
Kate Cleveland
Tel.  248-277-8018
Fax   248-596-0395
Email
kate.cleveland@osram-os.com
Technical Information:
OSRAM Opto Semiconductors
Tel. 866-993-5211
Email
info@osram-os.com