Product News: Electronic Components & Devices
Low-Phase-Noise SMD OCXOs have -40 to +85°C temperature range.
Press Release Summary: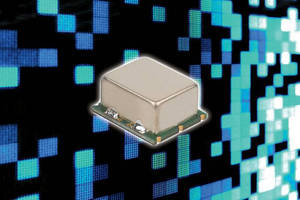 November 26, 2012 - Suited for automated SMD production, IQOV-90 series OCXOs are available in frequencies from 10-40 MHz and with supply voltages of 12, 5.0, or 3.3 V. Units are housed in 25.4 x 22.0 mm package, with height of 12.3 mm, and are based on FR4-PCB with metal lid. Options include sinewave and HCMOS outputs, frequency adjustment, and reference voltage output, while optional oven alarm output indicates when OCXOs are at stable working condition after warm-up.
IQD Frequency Products - San Jose, CA
Original Press Release
Electronica Launch for IQD's New Industrial Temperature Range SMD OCXO
Press release date: November 13, 2012
IQD have extended the performance of their IQOV-90 series high stability low phase noise OCXOs to encompass the full standard industrial temperature range of -40 to 85°C. High operating temperature ranges are significantly more technically challenging in OCXOs than for other frequency products. By increasing the internal crystals turnover point to a safe margin above 85°C and reducing the thermal loss of the circuit, our design team have been able to increase the maximum external temperature range of the part to 85°C. However, the extra internal heating of the oven creates a potentially larger thermal loss both internally between the heat source and the crystal and externally between the can and the ambient environment. This is particularly difficult to control at the lower end of the operating temperature range. IQD's design team have utilised a number of new technologies to improve performance in these areas without increasing package size.

The new design is available in frequencies from 10 to 40MHz and with supply voltages of 12V, 5.0V or 3.3V. Both sinewave and HCMOS outputs can be specified along with a frequency adjustment option and additionally, a reference voltage output where required. As a further option, an oven alarm output is available which indicates when the OCXO is at a stable working condition after warm-up. Housed in a 25.4 x 22.0mm package with a height of only 12.3mm, the new design satisfies applications where space and height is limited. Based on a FR4-PCB with a metal lid and delivered in package quantities of 75pcs per reel the IQOV-95 is suitable for fully automatic SMD production.

Designed and manufactured in Germany at our IQD FOQ GmbH facility, the IQOV-90 series is suitable for a wide range of applications including base stations, repeater stations, instrumentation, medical and measurement equipment. Due to the flexible nature of the design, alternative supply voltages and output compatibilities to suit almost any application can also be readily developed to meet individual customer requirements. 

Further details will be available at the IQD stand 314 in Hall B5 at Electronica 2012 where IQD will also be demonstrating some of its high frequency low phase noise technology with crystal oscillators up to 1GHz.

Backed by a pedigree that has been developed over nearly 40 years, IQD Frequency Products is a recognised market leader in the frequency control market. We have operations in America, Asia and Europe including our specialist OCXO manufacturing division, IQD FOQ GmbH in Germany. With active customers in over 60 countries, IQD offer one of the most comprehensive frequency product ranges available, from low cost commercial grade product to that used in high reliability military and professional grade applications. Our range includes Quartz Crystals, Crystal Oscillators, Silicon/MEMS Oscillators, Fast Make Oscillators, VCXOs, TCXOs, OCXOs, Automotive Crystals & Oscillators to AEC-Q200 & TS16949 release, Real Time Clock and SAW Filters.

Quality and customer service are the cornerstones of our success and we are absolutely focussed on consistently meeting and exceeding customer expectations. We take a partnership approach to working with our customers. Our experienced multilingual Sales and Application Support teams guide customers from design stage through to full production.

IQD's products are specified by leading manufacturers in the aerospace, automotive, communications, computing, consumer, industrial, medical and military industries throughout the world. We work with several premier chip-set designers on a variety of key projects and hold approvals on a number of products including high specification oscillators. Our full range of products is available direct from all of our offices or via our extensive worldwide distribution and representative network. Full contact details are available on our website at www.iqdfrequencyproducts.com .

Further information:
Harriet Charles
IQD Frequency Products Ltd
T: +44 (0)1460 270200
E: harriet.charles@iqdfrequencyproducts.com
W: www.iqdfrequencyproducts.com