Product News: Electrical Equipment & Systems
Loading Dock Lights help drivers safely align and back in trucks.
Press Release Summary: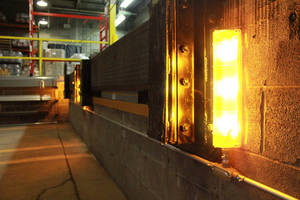 November 29, 2012 - By utilizing illuminated dock face provided by Guide-Pro Truck Lights as sharp visual reference/guide, truck drivers can safely align dock face in their mirrors to prevent crooked entry and overrunning-the-dock mishaps. Models 043-00060 (Double) and 043-00059 (Single), respectively featuring 4 and 2 lights, are made from ribbed-reinforced high-impact polycarbonate, operate on 12 V AC/DC, and use standard automotive replacement bulbs. Low-profile design resists impact and breakage.

Original Press Release
TMI'S New Guide-Pro Truck Lights Increase Loading Dock Safety
Press release date: November 28, 2012
Pittsburgh, PA, - TMI, LLC's newest dock safety solution, Guide-Pro Truck Lights, make it easier for trucks to align and safely back into loading docks. Guide-Pro Truck Lights complement TMI's extensive dock light product line.
Guide-Pro Truck Lights provide a sharp visual guide for truck drivers by illuminating the dock face. By utilizing this visual reference, truck drivers can safely align the dock face in their mirrors, preventing crooked entry and overrunning-the-dock mishaps. The lights give drivers visibility they wouldn't otherwise have.
"They make [lining a truck up in] a tough double-inside dock much easier," said Tony Cigna, a seasoned FedEx Freight driver and one of the first to utilize TMI's Guide-Pro Loading Dock Guide Lights. "Any driver who backs into inside docks knows you are blind for a good part of the backing process. Whether it's bright sunshine outside or dark, these lights make a huge difference," Cigna said.
More information on TMI's Guide-Pro Truck Lights can be found online at
www.tmi-pvc.com/dock-guide-lights.html,
including a video of the new lights in action.
About TMI, LLC
Founded in 1988, TMI, LLC is a fully integrated, leading international manufacturer and supplier of innovative products and solutions designed to manage customer environments by improving work safety, cleanliness, comfort, efficiency and energy savings. TMI's comprehensive product line includes strip doors, exclusive PVC-based strip, film, panel and sheet products, PVC-coated and laminated fabrics, air curtains, insect screens, swinging impact doors, curtains, modular enclosures and dock accessories. Services include slitting, heat sealing, interleaving, sheeting and die-cutting. The business is headquartered in Pittsburgh, PA with operations in Cuyahoga Falls, OH, Anaheim, CA and Norcross, GA. For more information on the complete group of TMI Companies, visit
www.tmi-pvc.com
.