Product News: Controls & Controllers
Loading Dock Controllers use touch-based interface.
Press Release Summary: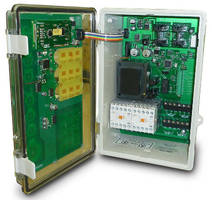 June 16, 2009 - Blue Genius(TM) Touch Control Panels feature smart-touch keypad with multilingual visual display that promotes safety and efficiency at loading docks. Workers can manage all connected loading dock equipment - levelers, vehicle restraints, doors, communications lights, safety accessories - from one panel and make sure each piece of equipment is in proper position before others are activated. MPU-based solutions integrate network communications bus and provide programmable menu options.
Blue Giant Equipment Corp. - Brampton, ON, CAN
Original Press Release
Blue Giant Introduces Advanced Blue Genius Controllers for Loading Docks
Press release date: April 1, 2009
Brampton, ON, Canada (April 2009) - Blue Giant Equipment Corporation introduces Blue Genius(TM) Touch Control Panels, a new line of microprocessor-based technology for operating dock levelers, vehicle restraints, doors, communications lights, and safety accessories - all from one smart-touch control panel.
The Blue Genius(TM) provides smart-touch keypad operation with multi-language visual display to improve safety and efficiency in today's fast-paced loading dock areas. Workers can now manage all the connected loading dock equipment from one control panel and ensure that each piece of equipment is in the proper position before others are activated.
"The Blue Genius(TM) is a key component of our Smart Technologies and Engineering Platforms (STEP) initiative," explains Steve Greco, Director of International Sales & Marketing. "STEP is the cornerstone of our commitment to continually introduce advanced technology solutions that will play a significant role in safe and controlled loading dock operations worldwide. Blue Genius(TM) controllers, including the Platinum Series Master Panel, are just the first of many new offerings from Blue Giant in 2009 and will be introduced at the International Door Association Expo held at the Gaylord Opryland Convention Center in Nashville, TN, on April 24-25, 2009."
"Blue Genius(TM) Touch Control Panels feature an enhanced network communications bus that provides more reliable high-speed communications," reports Gregory Ion, Director of New Product Development, who led the development of the Blue Genius(TM) technology. "The network features bidirectional communication and power wiring that surpasses conventional relay wiring methods to prevent wiring errors between the controller and power pack. It also prevents common field miss-wiring from damaging or short-circuiting the components. The control operates on 24 volts, and the panel is safeguarded against potential shock hazard when opened to ensure operator safety. For additional safety, the system features a power shut down and short circuit protection."
The Blue Genius(TM) controllers provide accurate proximity sensing of the operator's finger within the low-level electric field range. Since its multiplexed electric field senses touch and proximity through the insulating surface without direct electrical contact with electrode metal, problems of wear, contamination, and even corrosion are eliminated, and higher operational reliability is ensured. Eliminating all mechanical buttons also eliminates problematic contact wearing and breaking. An additional benefit is that the controller can go from standby to active mode as a finger approaches the panel thereby providing fast, safe, and accurately sequenced operation. For added security the controller can be set to require a supervisor to activate initial startup from the keypad.
The Blue Genius(TM) controllers feature a user-friendly, multi-language LCD screen that provides clear, real-time instructions for operations, maintenance, and diagnostics, as well as supervisory keypad lockout and override functions. The menu display is factory-programmed and accessible for three levels of users:
1. "Operator" for general operation and diagnostics,
2. "Factory-trained technicians" for customizing interlocked operational sequencing, accessing operation history, and troubleshooting diagnostics,
3. "Factory programmer" for troubleshooting and implementing software updates and upgrades.
The advanced-technology, microprocessor-based controls also provide intelligent, programmable menu options. This provides flexibility at the software level and is easily upgradable for those occurrences when a client decides to add a new piece of equipment - such as a vehicle restraint or inflatable shelter - at the loading bay.
Printed circuit boards mean trouble-free wiring and simplified board-level troubleshooting with quick uptime response that eliminates time-consuming multi-meter diagnostics. Its plug-and-play design also lets field personnel easily and cost-effectively exchange the boards for upgrades or repair.
Wireless remote controls provide additional convenience and cost savings by operating all programmed functions, including the dock leveler and restraint, from a convenient location that ensures technician safety, convenience, and efficiency.
The small size of the Blue Genius controller saves interior wall-panel spacing between docks. And since the panel does not need replacing during upgrades, its carbon footprint is minimized.
About Blue Giant Equipment Corporation
Blue Giant was founded in Brampton, Ontario, Canada, in 1963. The company initially specialized in the manufacture of dock levelers and hand pallet trucks. In the following years the company grew rapidly with the addition of innovative technology and expanded product offerings and the addition of manufacturing and distribution facilities around the world.
Today Blue Giant dealers can offer turnkey solutions to the most demanding freight-handling needs. Loading dock equipment includes dock levelers, ground-level lifts, vehicle restraints, dock and door guards, door seals and shelters, and driver control and safety systems. Material handling offerings include manual and electric pallet trucks and stackers, scissors lifts, and various other material positioning products. In addition, Blue Giant dealers can draw upon the extensive dock design, construction, operation, and safety expertise of the world's leading dock experts.
To meet global demand for increased loading dock productivity, Blue Giant has established manufacturing joint ventures in Mexico and Southeast Asia. Through the strategic use of unique partnerships, global supply, continuous improvement, and world-class support, Blue Giant is delivering unmatched value, quality and service. Customers worldwide can rely on Blue Giant for an innovative, responsive, refreshing way of doing business that elevates growth and profitability.
For more information, visit
www.BlueGiant.com
or contact Mike Poeltl, Marketing Manager
A focus on product development has catapulted Blue Giant® into the 21st Century with innovative thinking and design improvements.