Product News: Electrical Equipment & Systems
Load Current Supply fully powers Simatic controller.
Press Release Summary: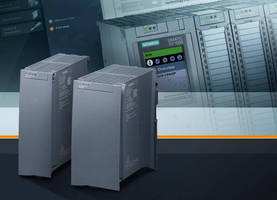 December 7, 2012 - Available in 50 and 75 mm versions respectively rated to 3 and 8 A to suit Simatic S7-1500 controller, Simatic PM1507 load current supply provides all system components of Simatic controller – CPU, communication module, and I/O modules – with 24 V. Additionally, sensors and actuators can be provided direct with stabilized 24 V supply. For connecting loads with high inrush current, both supplies provide up to 150% of regular rated output current for 5 sec each minute if required.
Original Press Release
Siemens: Powerful Load Current Supply Expands Simatic S7-1500 Portfolio
Press release date: November 1, 2012
The Siemens Industry Automation Division offers the Simatic PM1507 load current supply in two versions to suit the Simatic S7-1500 controller. The two power supplies provide all the system components of the new Simatic controller, such as the CPU, the communication module and the input/output modules with 24 volts. In addition, sensors (such as proximity switches or position encoders) and actuators (such as valves or contactors) can be provided direct with a stabilized 24-volt supply via the Simatic PM1507. Depending on the number and current requirements of the connected components, the load current supply is available in a version with 3 A of rated output current, and one with 8 A. For connecting loads with high inrush current, both power supplies provide up to 150 percent of the regular rated output current for five seconds each minute if required.

Due to its high efficiency, the new load current supply generates only low thermal losses. This means the slim modules (only 50 mm (3 A) and 75 mm (8 A)) can be mounted beside the other components on the S7-1500 system rack without gaps. Fast connection to all single-phase 120 and 230 V AC power systems is enabled by the voltage input with automatic range switchover, and the system connector. The status "power on / error / stand-by" is signaled via a three-color LED. The Simatic PM1507 is configured together with the other components of the Simatic S7-1500 via the TIA Portal.

More information is available on the Internet at: www.siemens.com/sitop

Press information is available on the Internet at:
www.siemens.com/press/industryautomation/pressreleases

Siemens AG
Corporate Communications and Government Affairs
Wittelsbacherplatz 2, 80333 Munich
Germany
Reference number: IIA201211.3403e fp
Media Relations: Peter Jefimiec
Phone: +49 911 895-7975
E-mail: peter.jefimiec@siemens.com

Siemens AG
Industry Sector - Industry Automation Division
Gleiwitzerstr. 555, 90475 Nuremberg, Germany

The Siemens Industry Sector (Erlangen, Germany) is the world's leading supplier of innovative and environmentally friendly products and solutions for industrial customers. With end-to-end automation technology and industrial software, solid vertical-market expertise, and technology-based services, the Sector enhances its customers' productivity, efficiency, and flexibility. With a global workforce of more than 100,000 employees, the Industry Sector comprises the Divisions Industry Automation, Drive Technologies and Customer Services as well as the Business Unit Metals Technologies. For more information, visit http://www.siemens.com/industry