Product News: Material Handling & Storage
Linear Slide Actuator suits precision movement applications.
Press Release Summary: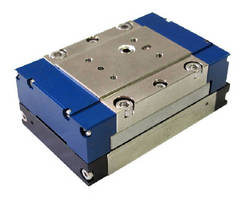 July 2, 2014 - Featuring 40 x 60 x 25 mm profile and 10 mm stroke length, SLA25 Series incorporates precision cross roller guides with anti-creep protection. Moving coil drive is centered between cross rollers, eliminating moment effects from drive. Available with encoder resolution down to 50 nm, actuator is fully programmable permitting users to exert complete control over force, acceleration, and velocity. Device is suited for scanning applications found in semiconductor, electronic, and biotech industries.
SMAC Moving Coil Actuators - Carlsbad, CA
Original Press Release
SMAC Introduces the SLA, New Precision Linear Slide with Cross Roller Guide
Press release date: June 10, 2014
SMAC introduces the new SLA25 series of linear slide actuator, designed for precision movement applications such as scanning found in the semiconductor, electronic and biotech industries.
SMAC Inc. launches its new SLA series of linear slide actuator. A very light moving mass results in high accelerations with no backlash. The SLA incorporates precision Cross Roller Guides with anti-creep protection for increased stiffness and lower friction. The Moving Coil drive is centered between cross Rollers thus eliminating moment effects from the drive. The SLA is available with encoder resolution down to 50 nm.
The SLA25 is the first model in the series. The SLA25 has 40x60x25mm profile and stroke length of 10mm is available now. In common with all SMAC actuators it is fully programmable permitting the user to exert complete control over force, acceleration and velocity. This makes it ideal for implementation in industries where SMAC's patented 'Soft-Land' procedure allows the actuator to both measure and manipulates very delicate and high value components with ease.
About SMAC, Inc.: Founded in 1990 in Carlsbad, California USA, SMAC has now grown to become a world leader in Moving Coil technology and is now the largest manufacturer of Moving Coil Actuators in the world. SMAC manufacturers on a global basis with production, technical support and service facilities in the USA, Europe and Asia. SMAC manufactures precision programmable electric actuators based on moving coil technology. These actuators are unique in that force, position and speed are totally programmable. They are designed to perform at exceptionally high speeds or very low speeds and with sub-micron accuracy and verifiable repeatability.
SMAC Inc
5807 Van Allen Way
Carlsbad, California 92008
Phone: +(1) 760 929 7575
Web:
www.smac-mca.com