Product News: Computer Hardware & Peripherals
LIN Transceiver IC targets multi-LIN master systems.
Press Release Summary: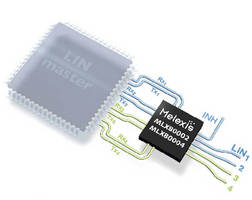 May 19, 2014 - Produced in 0.35 micron HV-CMOS technology, Model MLX80002/4 combines 2 or 4 LIN transceivers, respectively, on one die, enabling development of multi-LIN network master modules. Device features integrated 1 kΩ LIN master termination resistors and decoupling diodes, meets automotive temperature range of -40°C to +125°C, and has on-chip protection against over-temperature, 40 V load dump, and LIN short to ground. For data transmission according SAEJ2602, special low slew mode is available.
Original Press Release
Next Generation of Enhanced 2 and 4-channel LIN Transceiver MLX80002/4 Reduces System Costs for Multi LIN Master Systems
Press release date: May 9, 2014
Tessenderlo, Belgium — Local interconnect network (LIN) nodes are witnessing exponential growth rates in cars, resulting in master modules controlling multiple LIN buses. To address this growing need for multi LIN transceiver systems Melexis introduces a new generation of 2 and 4-channel LIN transceiver IC. The MLX80002/4 can reduce system costs of the LIN physical layer by 20% compared to multiple single transceiver ICs found in, for example, a body control module (BCM). The MLX80002/4 extends Melexis' existing product line of LIN transceivers and system basis chips.
The LIN bus continues its successful adoption in automotive and industrial applications with the release of LIN version 2.x and the release of SAE J2602 networking specification. This robust, cost effective communication scheme enables many basic networking functions in sub-systems previously considered to be uneconomical for smart actuators and controls. As a consequence of this successful implementation of many different LIN applications, there is a need for BCMs to manage different LIN bus sub-systems at the same time. Demand for easy and cost effective implementations is satisfied with the MLX80002/4.
The MLX80002/4 combines two or respectively four LIN transceivers on one die and is functionally backward compatible to the current reference standard; MLX80001. It enables the development of simpler and more cost effective multi-LIN network master modules. Integrated 1kOhm LIN master termination resistors and decoupling diodes further reduce system costs. The integrated power management function enables easy management of the different LIN channels. This 2/4-channel LIN transceiver is produced in 0.35 micron HV-CMOS technology and is based on the industry proven single channel transceiver MLX80020.
The EMC behavior of LIN bus ICs is critical in automotive applications. The MLX80002/4 design has remarkable robustness when subjected to the injection of high frequency disturbances. The IC exhibits very low electromagnetic emission to further simplify the design challenges of networked communication in hostile automotive environments. It is fully compatible with the demands of all OEMs and achieves world's best ESD robustness. For the data transmission according SAEJ2602 a special low slew mode is available.
The MLX80002/4 meets the automotive temperature range of -40C to 125C and has on-chip protection against over-temperature, 40V load dump and LIN short to ground. The integrated standby management assures that the MLX80002/4 can 'wake up' from the LIN bus itself or directly from a connected microcontroller or other external source. Further integrated security mechanism like RXD timeout, TxD timeout and sleep timer increases the LIN bus availability in case of fault conditions. To support the demand for decreased standby current the typical current consumption in sleep mode is as low as 10A. Qualified samples are available and come in a space saving 24-pin QFN 4x4 RoHS compliant package. The usage of the same package for both IC versions enables easy scalability of the LIN channels in the application in dependence of the customer requirements. The ICs are fully PPAP and qualified according AECQ-100.
For more information go to:
http://www.melexis.com/MLX80002and80004
Contact Melexis
Marketing Communications
Peter Riendeau
Melexis Inc
15 Trafalgar Sq., Ste. 100
Nashua, NH 03063 USA
Tel: 603-204-2900
Fax: 603 578-1270
pre@melexis.com
Sales
Susan Brocious
Melexis Inc
15 Trafalgar Sq., Ste. 100
Nashua, NH 03063 USA
Tel: 603-204-2900
Fax: 603 578-1270
sbr@melexis.com
About Melexis
Melexis Microelectronic Integrated Systems N.V. (Euronext Brussels:MELE) imagines, creates and delivers innovative mixed signal integrated circuits. Melexis ICs are driving green solutions that enable our customers to bring more energy efficient automotive systems to market. Melexis product portfolio addresses 4 classes of ICs; Sensor, Optoelectronic, Wireless and Actuators. Sensors include magnetic, MEMS, and sensor interface ICs. Optoelectronic products encompass linear arrays, single point sensors, infrared thermometers and CMOS wide dynamic range and night vision cameras. Wireless ICs focus on RKE, TPMS, ISM band applications, NFC, RFID reader and smart tag solutions. Actuator ICs cover LIN and CAN bus networking ICs and advanced BLDC motor driver technology. Melexis is proud of its participation toward reducing the human race's global environmental footprint.
For more information visit
www.melexis.com