Product News: Material Handling & Storage
Lightweight Crane supports truss for increased capacity.
Press Release Summary: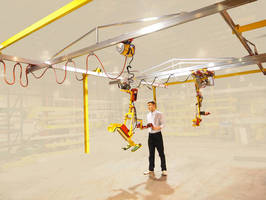 April 21, 2014 - Model C250 uses Slant-Truss, which bolts to top of G-Rail™ aluminum rail profile to increase capacity in long spans; cranes with spans of <4 m and cranes with capacity of <250 kg do not need to be trussed. In combination with Slant-Truss, extended spans can enable accelerated movement without tractor drives. Slant-Truss also reduces required columns supporting runways. With possible spans over 9 m, C250 G-Rail profile offers 250 kg capacity.
Givens Engineering Inc. - London, ON, CAN
Original Press Release
Givens Engineering Develops C250 Lightweight Crane with Truss
Press release date: April 18, 2014
Givens Engineering Inc has developed the C250, an extremely lightweight crane that makes use of a "Slant-Truss" (Patent Pending) that bolts to the top of the G-Rail™ aluminum rail profile.  When the Slant-Truss is added to the C250 rail, the capacity in long spans increases five- to ten-fold. Cranes with spans of less than 4m do not need to be trussed, nor do cranes with a capacity lower than 250 kg.
The C250 G-Rail profile has a capacity of 250kg and is very light by itself. In combination with the Slant-Truss, long spans can be unusually lightweight, making fast movement possible, without tractor drives. A beneficial effect of the Slant-Truss is fewer columns supporting the runways. Spans over 9m are possible.
Ray Givens, P.Eng.
ray@giveng.com
519-453-9008 office
519-617-6000 cell
Givens Engineering Inc.
327 Sovereign Rd
London, Ontario
Canada
Manipulators, Light Cranes and Ergonomic Equipment