Product News: Vision Systems, Electrical Equipment & Systems, Electronic Components & Devices
LED Tube Lamp extends maintenance via field-replaceable driver.
Press Release Summary: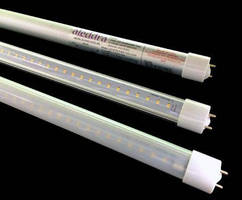 May 23, 2014 - Meeting needs of facility managers and lighting contractors, EasiRetrofit® G3 (third generation) LED tube lamp features double-ended safety switch and is designed to protect installers and maintenance crews from electric shock hazards. Driver has life expectancy of 5 years and can be replaced, in field, by end-user in <2 min. Available in 2 and 4 ft lengths as well as color temperatures of 3,000K, 4,100K, 5,000K, and 6,000K, UL 1598C Classified lamp supports universal 110–277 V input.
Original Press Release
Aleddra Introduces Economical and Environmentally Friendly EasiRetrofit® G3 LED Tube at LightFair
Press release date: May 13, 2014
"Its field-replaceable driver doubles the LED tube life to 10 years"

RENTON, Wash. -- Aleddra LED Lighting announces today that it will introduce their third generation (G3) EasiRetrofit® LED tube lamp at the upcoming LightFair 2014 in Las Vegas, June 3-5.

Aleddra's EasiRetrofit tube with double-ended safety switch is well recognized as the safest LED tube on the market. It is highly popular with facility managers and lighting contractors because it protects the installers and maintenance crews from electric shock hazards. In addition, it saves 50-70% installation time as compared to typical everyday single-ended LED tubes.

With the EasiRetrofit G3 tube, Aleddra pushes the envelope of the LED tube lamp further by incorporating a field-replaceable driver. It is well known that LED chips can last a very long time, but the driver has a much shorter life due to the limit of the electrical components the driver employs. When the internal driver of an LED tube fails, the only option is to replace the lamp completely, even though the LED chips in the tube are in good order. This is not only costly, but also may involve a long process of repair/replacement through the vendor, which at times can be a hassle.

The patented replaceable driver design by Aleddra removes these drawbacks by giving the end user the option of replacing the internal driver of the EasiRetrofit G3 tube in the field. By stocking a few replaceable drivers, there is no waiting on the replacement lamp. When the driver reaches the end of its expected life of 5 years, it is simply replaced with the new driver, doubling the LED tube life to 10 years at a fraction of the cost of a new lamp. Replacing the expired driver takes no more than 2 minutes. This not only saves on operation and maintenance costs, it is more environmentally friendly, reducing the volume of LED tube disposals by 50%.

Aleddra's EasiRetrofit G3 tube has a universal driver, supporting 110V-277V input voltage. It is available in 4-ft and 2-ft lengths, and its color temperatures include 3000K, 4100K, 5000K, and 6000K. It is UL 1598C Classified for both U.S. and Canada, and has met DLC linear tube specifications for utility rebates.

Aleddra also announces a significant price reduction on the G3 tube.

For sales inquiries, please contact your local Aleddra agent or connect with us directly at info@aleddra.com or 425-430-4555.

City: Renton, Washington
PR Contact: Matthew Maa, 425-430-4555