Product News: Electrical Equipment & Systems
LED Lamps replace CFLs in all directional lighting applications.
Press Release Summary: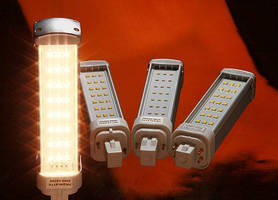 November 16, 2012 - Available in configurations that consume 5 or 7 W that respectively replace CFLs up to 13 or 23 W, LEDGX23D, LEDG24Q, and LEDG24D series support voltage ranges of 120–240 and 240–277 Vac and come in 2800K Halogen White, 3200K Warm White, or 4100K Natural White. Available base styles include dual- or quad-pin GX23, G24Q, and G24D, shock-resistant lamps provide 350–575 lm of directional light and at viewing angle of 110°. Clear acrylic lens cover shields lamps against accidental impact.
Original Press Release
Eco-Friendly CFL-Replacing LED Lamps Offer Energy Reduction up to 70 Percent, Greater Longevity & Shock Resistance
Press release date: October 26, 2012
The LEDtronics CFL-replacing series of LED lamps are offered in different combinations of wattage, voltage, white colors, base styles, and numbers of pins

Torrance, Calif.–LEDtronics®, Inc., the industry's most innovative LED lamp manufacturer for almost 30 years, announces a family of CFL-style, right-angle-illumination LED lamps with dual- or quadpin GX23, G24Q and G24D bases. The LEDGX23D, LEDG24Q and LEDG24D series is available in any combination of 5 or 7 watts; two popular voltage ranges of 120-to-240VAC and 240-to-277VAC; white colors 2800K 'Halogen' White, 3200K Warm White or 4100K Natural White; different base styles, and different configurations and numbers of pins.

Offering greater longevity and shock resistance than compact fluorescent lamps, the LEDtronics series of LED lamps replace CFLs in all directional lighting applications, such as lanterns beaming light away from the wall, wall sconces beaming light in one primary direction, ceiling lights beaming 90° down, uplights beaming skyward, and ambient, accent or artwork lighting in showrooms, galleries, labs, utility rooms, etc. They provide illumination at a wide viewing angle of 110 degrees.

The CFL-replacing series of LED lamps are available in configurations that consume only 5 watts and replace CFLs up to 13 watts, or use 7 watts and replace CFLs up to 23 watts, effectively reducing energy consumption by up to 70 percent. Depending on color temperature and bulb wattage, the lamps provide around 350 to 575 lumens of directional light.

The solid-state design of the LED lamps renders them impervious to electrical and mechanical shock, vibration, frequent switching and environmental extremes. They boast faster turn-on and reaction time compared to compact fluorescent lamps yet provide comparable luminous intensity and pure wavelength light for a more uniform and steady illumination with neither halation nor flickering. In typical applications they provide sharper, higher intensity illumination and better visibility than standard lamps and achieve full brightness more rapidly.

Built with a dedicated LED driver with PWM constant current supply to ensure longer operating lifespan and to minimize brightness deterioration due to overdriven LEDs, the lamps are rated at 50,000 hours MTBF, and their rugged but lightweight aluminum housing helps dissipate heat, keeping them cool. Their long life and reliability in a wide range of operating temperatures lower costs by reducing re-lamp frequency, while their cool operation translates into less load on air conditioning. The clear acrylic lens cover shields the lamps against accidental impact, in contrast to the dangers of breaking glass associated with CFLs.

As well, unlike the CFLs, the LED lamps are environment-friendly—they contain neither mercury nor lead, and they do not emit harmful radiation such as ultraviolet light.

The LEDtronics CFL-replacement series of LED lamps come with a 3-year U.S. manufacturer's warranty and are retail priced at $37.75 to $41.50. They are available in production quantities in 3 to 5 days, with samples and/or prototype quantities available to qualified customers in 1 week.

For technical information or for custom design and/or manufacturing needs, contact the company at 310-534-1505, e-mail at info@ledtronics.com, or postal mail at LEDtronics, Inc., 23105 Kashiwa Court, Torrance, CA 90505. Visit our website at www.LEDtronics.com.

About LEDtronics®
Based in Torrance, California, LEDtronics, Inc., since 1983 has been a world leader in designing, manufacturing and packaging Solid State Lighting products and state-of-the-art LEDs to meet the world's constantly changing lighting needs—from industrial control panel LED indicator lights to solid-state LED street lights, from direct incandescent- replacement based LED bulbs to direct fluorescent-replacement T8 LED tube lamps.

More product technical information is available online:
http://www.ledtronics.com/product_category.aspx?id=113

For Technical Information or if you have custom design and/or manufacture needs,
Contact: Jordon Papanier at 310-534-1505 or e-mail us