Product News: Electrical Equipment & Systems
LED Flashlight offers 1 km ANSI beam distance.
Press Release Summary: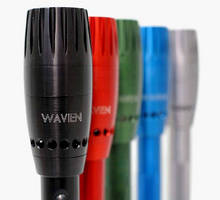 March 17, 2014 - Operating on 3 D-size batteries, Beam-Master™ Flashlight has several power settings and offers 2-hour run time at full brightness. Unit produces circular spot image and uses RLT™ technology to remove stray wide angle light found on other flashlights, creating laser-like beam with range of 1 km. Recycling Light Technology doubles useable light output of conventional LEDs by collecting high angle light that would otherwise be wasted, and redirecting it into compact, brighter beam.
Original Press Release
Wavien Introduces a One Kilometer Beam Distance Flashlight Using RLT(TM) Technology
Press release date: March 5, 2014
VALENCIA, Calif., – Wavien, Inc. is now selling the new Beam-Master™ flashlight using Wavien's patented RLT™ LED optical platform.  The ANSI beam distance is an impressive one kilometer, which is much farther than competitive flashlights at this lower price point.  The Beam-Master flashlight combines this exceptional performance with rugged construction and sensible design features that makes this a perfect choice for avid flashlight users.  The flashlight operates on 3 D size batteries and has several power settings with a 2 hour run time at full brightness.  This latest product release by Wavien has a circular spot image and due to the RLT technology advantage, the stray wide angle light found on other flashlights is removed creating a laser-like beam with a range of one kilometer.
"RLT is Wavien's Recycling Light Technology, a compact, low-cost, passive component technology that increases over 2 times the useable light output of conventional LEDs by collecting high angle LED generated light, that would be wasted in conventional illumination systems, and redirecting it into a more compact, useful, and brighter beam.  The usable LED light output is significantly boosted by the RLT reflector with no additional LED input power required and no change in LED lifetime," stated Dr. Kenneth Li, President and CEO of Wavien, Inc., who is also the inventor of the RLT technology.  "Wavien is very pleased that our RLT technology is now able to produce a circular as well as a square spot while maintaining Wavien's signature ultra narrow long range beam.  In a very short time, the Wavien RLT technology has changed the industry's flashlight standard from being measured in tens of meters to now one kilometer, and at a low price point that is reasonable to the general public," added Ken Li.  The new Beam-Master™ is now available at
www.wavien.com/SHOP
and will soon be for sale on Amazon.com.
About Wavien, Inc.
Wavien, based in Valencia, California, is a technology licensing company developing long-life, advanced high-performance light source solutions including arc lamps, LEDs, lasers, laser/phosphor hybrids, and plasma lamps, for the next generation of projection and consumer lighting industries.  Wavien continues to make major advancements in the LED illumination market with its recycling RLT technology.
RLT™ is registered trademarks of Wavien®, Inc.
For more information, please visit
http://www.wavien.com
Media Contact:
Harry Farrar
661-294-2900 ext. 210