Product News: Green & Clean
LED Downlights offer solution for display lighting.
Press Release Summary: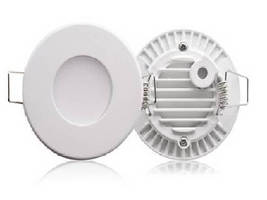 December 5, 2012 - Designed to replace 2 in. halogen recessed downlights, 4.5 Watt FZL-DL02-00 Series includes warm white, natural white, and cool white models with CCT of 3,000 K, 4,000 K, and 6,000 K and luminous flux of 210, 250, and 300 lm, respectively. Series offers dimmable and non-dimmable options with beam angle of 120° and operating temperature of -20 to +40°C. Providing efficiency over 85%, downlights are suitable for indoor, home, architectural, display, mood, and flood lighting.
Original Press Release
FZLED Introduces Super Slim 2-Inch LED Downlight for Display Lighting Solution
Press release date: November 27, 2012
Taipei, Taiwan –FZLED, a leading maker of LED lighting product, is pleased to introduce a family of super slim, long life, durable and easy to install 4.5W 2-inch LED downlights FZL-DL02-00 series. The light is designed to be energy-saving replacement for 2-inch halogen recessed downlights, used in both residential and commercial spaces, including galleries, museums, retail spaces, and showrooms; moreover, it could also be used in a variety of display lighting such as under cabinets, showcases and glass display cases.
FZL-DL02-00 comes with advanced guide technology and low-power LEDs, giving smooth light and cost efficiency. The lights assure maximum life of 35,000 hours, low maintenance cost, high luminous efficacy and zero pollution. The lamps could be applied on a variety of applications, including indoor lighting, home lighting, architectural lighting, display lighting, flood & mood lighting.
FZL-DL02-00 has three correlated color temperature (CCT) choices - warm white, natural white and cool white. The warm white version delivers 210 lm in a 3000K color temperature with CRI higher than 80.The neutral white version provides up to 250 lm in 4000K color temperature at 300mA, while the cool white gives 300 lm in a 6000K color temperature at 300mA.
The series offers dimmable and non-dimmable options. Its beam angle is 120 degrees and it can be plugged in power outlets ranging from 100 to 240 volt. Operating temperature ranges from minus 20 C to plus 40 C, which means it can be used in most places in the world. Moreover, FZL-DL02-00 delivers electrical efficiency of over 85%.
The slim series weighs 0.17 kgs with driver that is outfitted with composite structure using steel, aluminum and PMMA plastic, making it durable, ultra-thin and lightweight. The downlights meet the needs of consumers with high quality, lightweight, energy-saving and environmental friendliness. Emitting no heat, UV or IR rays, FZLED downlights are extraordinary in providing glare free, soft light and saving users over fifty-percent in electricity as compared to traditional halogen downlights.
Applications
Indoor Lighting
Home Lighting
Architectural Lighting
Display Lighting
Mood Lighting
Flood Lighting
Features
Energy Saving
No heat, No UV, or IR light radiation
Light source: Low power LEDs
Long lifetime of more than 35,000 hours (L70)
Lightweight, ultra-thin and durable
Easy installation
CE, FCC approved (Driver)
Specifications of the FZL-DL02-00 LED Downlight series
| | | | |
| --- | --- | --- | --- |
| Model | FZL-DL02-00WW-05 | FZL-DL02-00NW-05 | FZL-DL02-00CW-05 |
|   | FZL-DL02-00WW-05TDL | FZL-DL02-00NW-05TDL | FZL-DL02-00CW-05TDL |
|   | FZL-DL02-00WW-05TDH | FZL-DL02-00NW-05TDH | FZL-DL02-00CW-05TDH |
| CCT (color temperature) | 3000K | 4000K | 6000K |
| Luminous Flux (lm) | 210±10% (lm) | 250±10% (lm) | 300±10% (lm) |
| CRI | >80 | >80 | >75 |
| Input Voltage (V) |   | AC 100-240V |   |
| Power Consumption |   | 4.5W |   |
| Power Factor |   | >0.95 |   |
| Operating Temperature |   | -20 C° to 40 C° |   |
| Beam Angle |   | 120° |   |
| Dimension |   | Ø83X 34 (mm) |   |
| Net Weight |   | 0.17 (Kgs) with driver |   |
| Electrical Efficiency |   | >85% |   |
| Dimmable |   | Non Dimmable/ TriAC Dimmable |   |
About FZLED
FZLED is a Taiwan-based manufacturer and innovative designer of high-performance LED lighting products. As a sub-division of FZtech Inc., FZLED's products have superior mechanical and thermal design, utilizing the expertise of FZtech. Committed to excellence, FZLED follows a strict TQC for the entire manufacturing process, and conducts R&D projects continuously in an effort to create LED lighting solutions that offer lightweight, high-quality, environmentally-friendly, innovative, and thermally-optimized products to customers. For more information visit FZLED online at
www.FZLED.com.tw
.
PR Contact
FZtech Inc.
TEL: +886 2 2228 7885
E-mail:
PR@FZtech.com.tw