Product News: Display & Presentation Equipment
LED Bulbs are drop-in replacements for A19 and A21 incandescents.
Press Release Summary: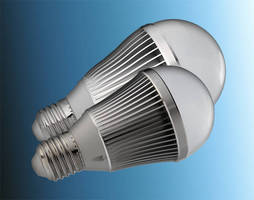 February 13, 2014 - Energy Star®-qualified and UL-listed DEC-A19F-7W-XIW-120AWD-ES (7 W, 593 lm), DEC-A21F-9W-XIW-120AWD-ES (9 W, 750 lm), and DEC-A19F-13W-XIW-120AWD (13 W, 956 lm) offer drop-in installation via existing 26 mm Edison screw-in base fixtures. Replacing incandescents from 60–100 W, dimmable LED bulbs have >80 CRI; run on 120 Vac; and come with softly diffused, UV-protected polycarbonate lenses. Bulbs emit warm white (3200K) light in 180° pattern (7 and 9 W) or 300° omnidirectional pattern (13 W).
Original Press Release
LEDtronics Adds Energy Star-Qualified, UL-Listed LED Bulbs to Its A19 and A21 Lineup
Press release date: February 11, 2014
Torrance, Calif. - LEDtronics, Inc., announces three new Energy Star-qualified, UL-listed dimmable LED replacements for A19- and A21-style incandescent light bulbs for home and commercial use. The 7-watt DEC-A19F-7W-XIW-120AWD-ES, the 9-watt DEC-A21F-9W-XIW-120AWD-ES and the 13-watt DEC-A19F-13W-XIW-120AWD provide easy drop-in installation in existing 26mm Edison screw-in base fixtures and offer long-term durability, low power consumption, environmental sustainability and money savings.
All three dimmable LED bulbs run on 120 VAC, requiring no special adapters, and replace incandescent bulbs from 60 up to 100 watts, with energy savings exceeding 80 percent. They come with softly diffused, precision domed, UV-protected polycarbonate lenses that emit warm white (3200K) light in a directional 180-degree illumination pattern in the 7-watt and 9-watt bulbs, and a 300-degree omnidirectional pattern in the 13-watt lamp.
In addition, the LEDtronics LED bulbs boast an outstanding color quality greater than 80 CRI, with superior brightness of 956 lumens (DEC-A19 13W bulb), 750 lumens (DEC-A21 9W) and 593 lumens (DEC-A19 7W bulb). All bulbs feature a sturdy construction with a unique grill-style, heat-sinking, aluminum-alloy housing.
Dimmable with an external dimmer (some dimmers have better performance than others), these economical, elegant light bulbs offer directional 180-degree or omnidirectional 300-degree light that is perfect for use in architectural & decor lighting, task lights, store front displays & retail display cases, exhibit set-ups, accent lighting and ceiling down lights. As a matter of fact, they are ideal for use anywhere you are currently using an incandescent A19- or A21-style light bulb, including outdoor applications when contained in a sealed housing, as they are IP63 protection rated.
Because LEDs have no filament, their solid-state design renders them impervious to shock, vibration, frequent switching and environmental extremes. With an average lifespan of more than 50,000 hours, white LED bulbs operate more than 20 times longer than the equivalent incandescent bulb, eliminating repeated relamping! The fact that they run remarkably cool also means they greatly reduce the load on air-conditioning normally associated with the indoor use of incandescent lamps.
The LEDtronics LED bulbs comply with RoHS — the lead-free and mercury-free European directive. Because they emit only negligible amounts of heat and no ultraviolet or infrared light, they protect what they are illuminating — perfect around artwork.
These maintenance-free bulbs come with a 3-year LEDtronics warranty. They are Energy Star listed for rebate and tax incentive programs, and UL listed for safety assurance.
The LEDtronics 7-watt DEC-A19F-7W-XIW-120AWD-ES retails for $21.95 each, the 9-watt DEC-A21F-9W-XIW-120AWD-ES is $25.50, while the 13-watt DEC-A19F-13W-XIW-120AWD is $26.50 (large-quantity discount pricing available to qualified distributors). Availability is stock to 4-6 weeks for special requirements.
For additional information on how to incorporate incandescent replacement, energy-saving, LED light bulbs into your facility lighting plans or architectural designs, contact LEDtronics toll free at 1-800-579-4875, telephone 310-534-1505, fax at 310-534-1424, email us at
info@ledtronics.com
or postal mail at LEDtronics, Inc., 23105 Kashiwa Court, Torrance, CA 90505.
About LEDtronics®
Based in Torrance, California, LEDtronics, Inc., since 1983 has been a world leader in designing, manufacturing and packaging Solid State Lighting products and state-of-the art LEDs to meet the world's constantly changing lighting needs-from industrial control panel LED indicator lights to solid-state LED street lights, from direct incandescent replacement based LED bulbs to direct fluorescent-replacement T8 LED tube lamps.
For more details and technical data, visit the direct web link at:
(A19-style, 7W LED bulb)
http://www.ledtronics.com/Products/ProductsDetails.aspx?WP=1025
(A21-style, 9W LED bulb)
http://www.ledtronics.com/Products/ProductsDetails.aspx?WP=1766
(A19-style, 13W LED bulb)
http://www.ledtronics.com/Products/ProductsDetails.aspx?WP=1766
For Technical Information or if you have custom design and/or manufacture needs, Contact: Jordon Papanier at 310-534-1505 or e-mail us