Product News: Electrical Equipment & Systems
Leak-Proof Battery can be installed in any position.
Press Release Summary: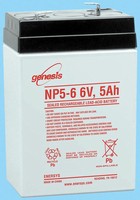 September 13, 2006 - Used for emergency lighting and other float applications, Genesis NP5-6 features heavy-duty lead calcium tin alloy grids and does not require addition of water. Design controls gas generation and induces recombination of over 99% of gases generated during float usage for safe operation, while safety release valve ensures excess gasses never accumulate within battery. With nominal capacity of 5.0 Ah at 20 hr rate, 6 V battery has typical float service life from 3-5 years.
Original Press Release
Leak-Proof Design of Enersys' New Genesis NP Battery Allows it to be Installed in Any Position
Press release date: August 28, 2006
READING, Pa., August 2006 - EnerSys, the world's largest manufacturer, marketer and distributor of industrial batteries, today announced it has added an additional model to its line of Genesis NP batteries. The new 5-Ah, 6-volt Genesis NP5-6 battery is commonly used for emergency lighting and other float applications.
The rugged construction of the Genesis NP5-6 battery guarantees leakproof operation and allows it to be installed in any position without affecting its capacity or service life. The battery is maintenance free and does not require the addition of water. Its built-in design controls gas generation, as well as induces the recombination of more than 99 percent of the gases generated during float usage for safe, efficient operation. Additionally, all Genesis NP batteries are equipped with safety release valves to ensure excess gasses never accumulate within the battery.
The battery's heavy-duty lead calcium tin alloy grids contribute to improved float and cyclic performance, and extend service life. Genesis NP batteries can realize over 1000 discharge/recharge cycles depending on the average depth of discharge, and have a typical expected float service life from 3 to 5 years.
With a nominal capacity at the 20-hour rate of 5.0 Ah, the NP5-6 measures 2.76" L x 1.85" W x 4.21" H (70.0 mm x 47.0 mm x 107.0 mm). It weighs 2.05 lbs. (0.93 kg.), and can be operated over a broad range of ambient temperatures. At room temperature, the self-discharge rate of the NP5-6 is approximately 3 percent of rated capacity per month. In float service applications, it has a service life of three to five years, while in cyclic applications it can realize more than 1,000 discharge/recharge cycles.
Uses for the Genesis NP battery line range from float applications such as burglar/fire alarms, cash registers, solar power devices, UPS equipment and emergency lighting, to cyclic applications including electric wheelchairs, test equipment and portable lights. Genesis NP batteries are also ideal for uses that combine both float and cyclic operation like medical equipment, cellular telephones and communications equipment.
Pricing for the Genesis NP5-6 starts at $9.82. Delivery is one week ARO.
For more information please visit enersysreserverpower.com or Dana Kowalski, MarComm Supervisor, EnerSys, P.O. Box 14145, Reading, PA 19612-4145. Tel: 800/538-3627; Fax: 610/372-8613; E-mail: kowalskid@enersys.com.
ABOUT ENERSYS: EnerSys, the world leader in stored energy solutions for industrial applications, manufactures, distributes and services reserve power and motive power batteries, chargers, power equipment, and battery accessories to customers worldwide. Reserve power batteries are used in the telecommunications and utility industries, uninterruptible power suppliers, and numerous applications requiring standby power. The company also provides aftermarket and customer support services to its customers from over 100 countries through its sales and manufacturing locations around the world.
More information regarding EnerSys can be found at
www.enersys.com
.