Product News: Electrical Equipment & Systems
Lead-Tin Battery offers deep cycle capability.
Press Release Summary: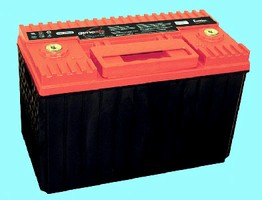 August 18, 2006 - Weighing 75 lb, 12 V Genesis XE95 offers nominal capacity of 95 A-hr, deep cycle capability of 400 cycles at 80% depth of discharge, and deep discharge recovery up to 90% recharge in less than 1 hr. It has 2-year shelf life at 77°F and operating temperature of -40 to 176°F with metal jacket. Valve-regulated, lead-acid, absorbed glass mat battery features maintenance-free, M6 female terminals and is approved by US DOT and IATA as non-hazardous and non-spillable for safe shipping.
Original Press Release
New Rugged Genesis Xe Battery from Enersys Offers More Power and Enhanced Deep Cycle Capabilities
Press release date: July 15, 2006
READING, Pa., July 2006 - EnerSys, the world's largest manufacturer, marketer and distributor of industrial batteries, today announced a new addition to its line of Genesis XE batteries. The new Genesis XE95 is a pure lead-tin battery designed specifically for industrial markets such as gas, oil and mining where deep cycling is important, making it suitable for alternative energy applications such as solar and wind power, as well as hybrid electric vehicles (HEVs).
Because of high volumetric and gravimetric power densities, the XE95 weighs only 75 lbs. and offers more power in less space than conventional batteries. Its rugged construction allows it to be tolerant against high levels of shock, heat and vibration, and its thin plate design gives it a superior high rate discharge capability.
The performance features of the 12 V XE95 include a deep cycle capability of 400 cycles at 80 percent depth of discharge (DOD), a two-year shelf life at 25°C (77°F), a superior deep discharge recovery of up to 90 percent recharge in less than an hour, and a wide operating temperature of -40°C to 80°C (-40°F to 176°F) with a metal jacket.
The Genesis XE95 is a valve-regulated lead-acid (VRLA) absorbed glass mat (AGM) battery. It has M6 female no-maintenance terminals, can be installed in any orientation except inverted, has a UL94 V-O flame retardant case and cover, and is approved by US DOT and IATA as non-hazardous and non-spillable for safe shipping.
The XE95 measures 13.00" L x 6.80" W x 9.41" H (330.2 mm x 172.7 mm x 239.0 mm) and has a nominal capacity of 95 Ah. Internal resistance is 2.2 mW, typical short circuit current is 5,000 A, and torque is 150 inch-lbs (16.9 Nm).
Pricing for the Genesis XE95 starts at $318.55.
For more information please visit enersysreserverpower.com or Dana Kowalski, MarComm Supervisor, EnerSys, P.O. Box 14145, Reading, PA 19612-4145. Tel: 800/538-3627; Fax: 610/372-8613; E-mail: kowalskid@enersys.com.
READER SERVICE INQUIRIES: Please direct inquiries to Dana Kowalski, MarComm Supervisor, EnerSys, P.O. Box 14145, Reading, PA 19612-4145.
ABOUT ENERSYS: EnerSys, the world leader in stored energy solutions for industrial applications, manufactures, distributes and services reserve power and motive power batteries, chargers, power equipment, and battery accessories to customers worldwide. Reserve power batteries are used in the telecommunications and utility industries, uninterruptible power suppliers, and numerous applications requiring standby power. The company also provides aftermarket and customer support services to its customers from over 100 countries through its sales and manufacturing locations around the world.
More information regarding EnerSys can be found at
www.enersys.com
.