Product News: Labels Tags Signage & Equipment
Laser Marking Machine delivers 50 W of power.
Press Release Summary: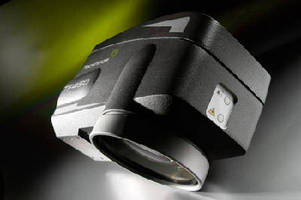 August 6, 2014 - With 50 W fiber laser, Model TF450 vaporizes material, creating completely unalterable marking. Laser interaction offers opportunities for deep engravings, especially in hard materials such as metals. In addition to contrasted marking and micro-machining, machine is approved for cutting metal sheets up to .118 in. thick. Typical applications include engine block and chassis burning, water meter engraving, and beam and aluminum profile burning.
Original Press Release
Technifor Introduces their New Laser Marking Machine, the TF450!
Press release date: August 1, 2014
Technifor, a division of the Gravotech Group, is the global leader in the permanent marking industry. Expanding further with the introduction of the 50-watt fiber laser, the TF450!
Contrast Marking, Twice as Fast
This compact, high-performance fiber laser solution for direct part marking has the ability to integrate into a production line and mark twice as fast as the 30watt version, sending the TF450 to the forefront of the industry. Fitted with a fiber laser source, it takes advantage of all the benefits including: a very long lifetime, consistent marking quality, minimized integration costs and reduced maintenance. Production cycle time is also reduced and ensures increased productivity to industrial site Managers.
Deeper Laser Marking
The true strength of this state-of-the-art laser is elsewhere. Indeed, thanks to its 50 watts power, the TF450 beam vaporizes material, creating a completely unalterable marking. This laser interaction offers new opportunities for deeper engravings, especially in harder materials such as metals, a particularly useful feature for markings which must remain legible after applying a coat of paint or surface treatment. This allows the global manufacturer Technifor, to expand its presence among professionals working with steel, stainless steel, aluminum, copper, and brass.
Many industries use this type of marking:
- Automotive: engine blocks and chassis burning
- Fittings: water meters engraving
- Metallurgy: beams and aluminum profiles burning
- Other industries: cutlery, armory, medical industry, and many more
The Open Door to New Markets
From contrasted marking to micro-machining, the TF450 is definitely a versatile engraving solution. The machine has even been tested and approved for the cutting of thin metal sheets up to 3 mm (.118") thick. For these new applications, users can rely on the power of LaserStyle ™ software, in particular for producing complex toolpaths and thus express their creativity.
This direction opens up to Technifor great prospects for development in micro-precision machining markets, such as micro-mechanical or watchmaking, and allows the brand, historically known for its expertise and know-how in micro-percussion, to strengthen its position in laser marking and machining.The new laser TF450 is available now! For more information, please contact the sales department:
sales@us.gravotech.com
or call 704-525-5230. You can also learn more at
www.technifor.us
Press Contact :
Dave Flanagan – Marketing Manager
800-843-7637
dave.flanagan@us.gravotech.com