Product News: Optics & Photonics
Laser Installation Kits works hand-in-hand with 67B series regulator.
Press Release Summary: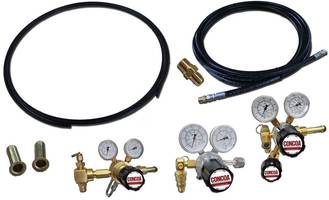 January 5, 2017 -
Built sturdily and finished in molten metal, Laser Installation Kits are defined to reduce processing time in regulator, fitting and hose installations in field start-ups. Kits respond spontaneously and has minimal pressure drop. Product delivers low permeation rate with 1x10¯⁸ ccs/sec helium leak rate when used with 601 series Dual-Stage Regulator and has minimal threaded connections in purge valve.
Original Press Release
New Installation Kits Reduce Startup Time, Improve Performance of Laser Gas Systems.
Press release date: January 3, 2017
 CONCOA has introduced a series of laser installation kits designed to condense the time required for field startup of laser equipment.
Providing all the necessary components required for startup, CONCOA's laser installation kits simplify the regulator, fitting, and hose installation process to increase the timeliness and efficiency of laser startup and validation while minimizing costs.
Working in tandem with the 67B Series High Flow, High Pressure Regulator, a quality finish is ensured by ejecting molten metal from the kurf zone with instantaneous response and minimal pressure drop. Similarly, the 601 Series Dual-Stage Regulator delivers industry-leading low permeation rates with 1x10¯⁸ ccs/second helium leak rate and an integral purge valve with minimal threaded connections. These dynamics prove vital in CO₂ based resonator applications, as permeation directly contributes to contamination, leading to higher maintenance costs and decreased productivity resulting from poor beam quality.
Available with CONCOA's complete line of laser gas delivery systems and combined with robust materials of construction and backed by decades of industry experience, CONCOA laser installation kits ensure optimal performance and reliability in any application worldwide.
Contact:
Larry Gallagher, Applications Manager, 800-225-0473, lgallagher@concoa.com
Dan Dickerson, Channel Development Manager, 800-225-0473, ddickerson@concoa.com