Product News: Labels, Tags, Signage & Equipment
Label Vision Inspection System works on cylindrical containers.
Press Release Summary: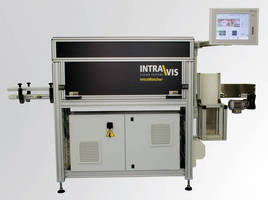 January 18, 2013 - Designed for QC of labels on cylindrical unoriented containers, IntraWatcher® PVLC employs optical inspection module that provides 360° view around cylindrical containers and creates rollout image. System can inspect all types of labels, including pressure sensitive, injection molded, and heat transfer labels, for presence, identity, and position. Included software precisely measures label offset and rotation and also detects printing errors, folds, and bubbles.
Original Press Release
INTRAVIS Intoduces IntraWatcher - Label Vision Inspection System
Press release date: January 15, 2013
NORCROSS, GEORGIA --  INTRAVIS, Inc. recently introduced IntraWatcherPVLC, the latest in label vision inspection systems.

IntraWatcher® PVLC, was designed for the quality control of labels on cylindrical unoriented containers. Cylindrical containers present a challenge for vision inspection as the orientation on conveyor belts cannot be guaranteed. INTRAVIS saw the need for a solution and developed this state-of-the-art vision inspection system.

How it works:
The IntraWatcher PVLC is equipped with an optical inspection module which provides a 360° view around cylindrical containers and creates a rollout image. The perspective is straightened by the image processing software and the image is then oriented and compared to a reference sample.

The system inspects each container for label presence, identity and position. The software is able to precisely measure the label offset and rotation.  In addition it also detects printing errors, folds and bubbles. The IntraWatcher PVLC is capable of inspecting all types of labels, including pressure sensitive, injection molded (IML), and heat transfer labels.

Especially in the U.S. market, where cylindrical containers are the most widely-used packaging, this system offers a unique quality control tool. "We are very pleased to bring this level of inspection for cylindrical containers.  Providing accurate inspection solutions were met with enthusiasm at PackExpo", said Andreas Mueller, CEO at INTRAVIS Inc.

About INTRAVIS
INTRAVIS is a global leader in vision systems for plastic packaging and decoration industries. Headquartered in Aachen Germany with over 20 years of experience in vision inspection systems, INTRAVIS is a manufacturer of: BarrierWatcher, Sample-PreWatcher, CapWatcher II, SpotWatcher and now IntraWatcher and many other vision inspection systems. For more information please contact INTRAVIS at 770.662.5458 or visit them at www.intravis.com