Product News: Health, Medical and Dental Supplies & Equipment, Laboratory and Research Supplies & Equipment
Lab Anesthesia Systems provide all necessary components.
Press Release Summary: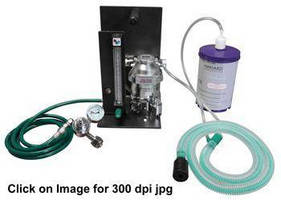 April 4, 2014 - Based on most widely used configurations seen in customers' laboratories, preconfigured Turnkey Anesthesia Systems include anesthesia machine, vaporizer, evacuation, regulator, tubing, and connectors. Variety of configurations are available for mice, rats, and other small rodents, including Table Top Systems, Mobile Single Animal Systems, and Two Animal Table Top Systems—all with mask and/or induction box and Fluovac System.
Original Press Release
NEW Turnkey Anesthesia Systems
Press release date: March 28, 2014
Holliston, MA – Harvard Apparatus is pleased to announce the release of several new anesthesia turnkey systems.
Based on the most widely used configurations seen in customers' laboratories, these preconfigured packages ensure users receive all the necessary parts – anesthesia machine, vaporizer, evacuation, regulator, tubing and connectors, to get them started quickly.

The Turnkey Anesthesia System configurations include:
Table Top System with a mask for small rodents
Table Top System with a mask and induction box for small rodents
Mobile Single Animal System with mask for small rodents
Mobile Single Animal System with mask and induction box for small rodents
Two Animal Table Top with mask for Mice, with Fluovac System
Two Animal Table Top with mask for Rat, with Fluovac System
Two Animal Table Top with mask and induction box for mice, with Fluovac System
Two Animal Table Top with mask and induction box for larger rodents, with Fluovac System

The Harvard Apparatus Technical Services Team is also available to help configure a custom anesthesia system to fit specific application requirements.

Harvard Apparatus is a global developer, manufacturer, and distributor of innovative and specialized products to enhance bioresearch.

For more information, contact:
Harvard Apparatus
84 October Hill Road
Holliston, Massachusetts 01746 USA
Toll Free: 800-272-2775
Phone: 508-893-8999
Fax: 508-429-5732
E-mail: techsupport@harvardapparatus.com
Web: www.harvardapparatus.com